Real estate Company Optiven investment limited has announced valentine's offers for its customers both locally and in the diaspora. Optiven is known for serious and well-calculated prime value additions on land, with experience spanning over 23 years now.
The company sells strategically located pieces of land in Kitengela, Nanyuki, Naromoru, Kisumu, Konza, Machakos, Nyeri, and Nakuru that offers the perfect opportunities for residential and commercial activities.
With excellent value additions such as water, solar street lighting, beautiful trees, well-compacted internal roads, a well-done fence, and magnificent gates for extra security, the properties are sure to exceed investors' expectations.
Speaking during an interview, Optiven Founder George Wachiuri said that Ushindi Gardens by Optiven has been marked as the valentine's offer with affordable prices.
The offer is a plug of an ultimate blend of luxury and affordability with an array of value-added projects at Ushindi garden Nakuru County.
He said that the project is in a well-selected location within the Nakuru metropolis with proximity to Nakuru City.
"Ushindi Gardens by Optiven is unique from the others. On a traffic-free day, it will take you only 18 Minutes from Nakuru's Optiven office, located on the 7th Floor – of Golden Life Mall," Wachiuri said.
Besides the offer, Wachiuri has also planned a workshop event for couples to educate them on how to create wealth together.
The workshop is themed 'how to create wealth as a couple' and will be held at Optiven global arena –Karen, the company's newest office that was recently launched to serve their diaspora clients.
Wachiuri said that the event will be held on 10th February 2023 from 4 pm and the entry has been made free per couple.
Wachiuri said the workshop is aimed at equipping couples with knowledge and ideas on how they can create wealth together and various ways they can invest.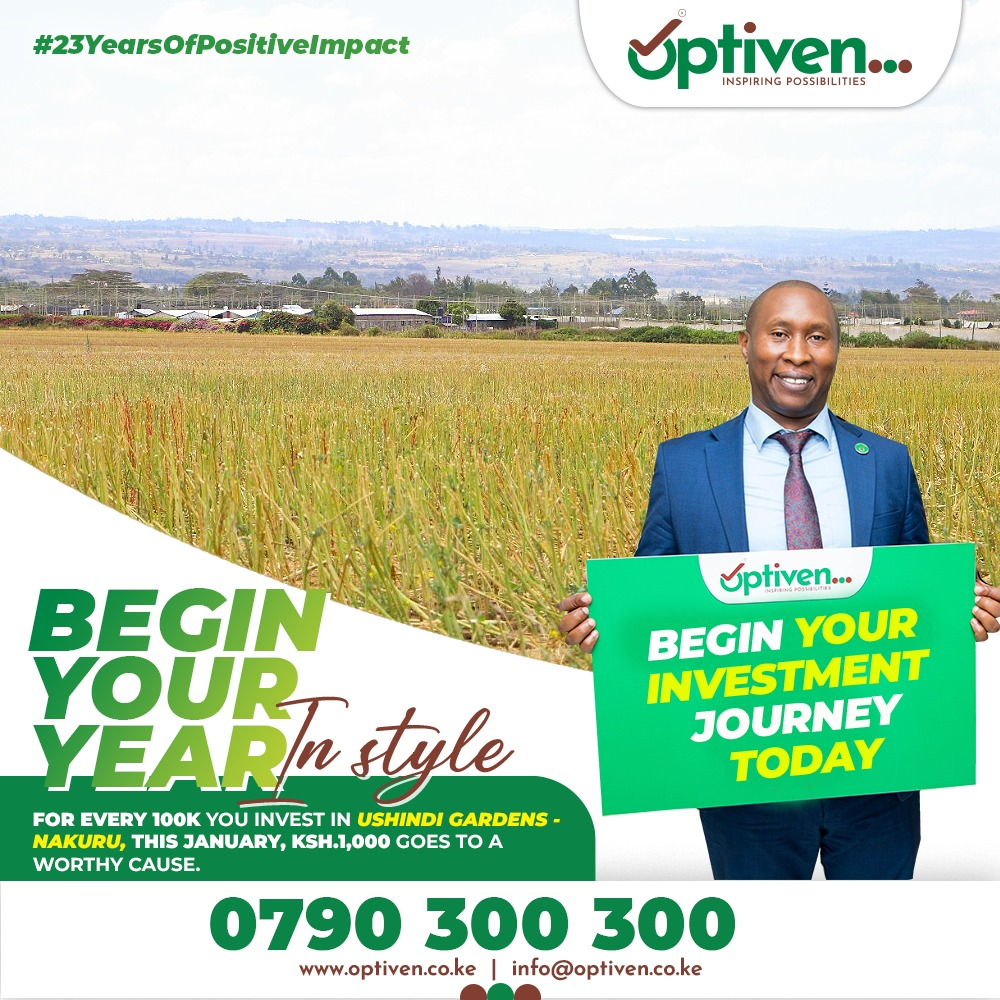 "I have been passionate to see couples investing together and decided to share a few thoughts as we approach Valentine's season and this is the reason I have planned one hour to help the couples create wealth," Wachiuri said
What about Ushindi Garden Nakuru?
Ushindi Gardens by Optiven will be a lovely Gated Community with the following promised Value Additions:
Solar Street lights are in line with the Go Green sustainability initiative by Optiven.
Water tower
Water on every plot (You only pay for meter installation)
Beautiful Trees planted along the roads
Electricity on ground
Compacted murram roads
Mesh Fence
Beautiful Entry gate
Community park
Uniformed security until project handover.
Why Nakuru?
Topography: The land is flat with a slight gradient
Neighborhood: While the neighborhood is developed, Optiven is redefining the landscape of Nakuru City.
Security: Ushindi Gardens by Optiven is near the city, and we shall have internal security too.
Location: 1.2Km off the highway
Water: Optiven will do a borehole to supplement County water.
What's more: Buy a plot with Optiven at Ushindi Gardens and enjoy Hustle free building. Optiven Homes will take care of your building needs
Investment
The first 50 plots: Ksh 850,000 all-inclusive
After 50 plots are sold out, the cash price will go up immediately to Ksh 950,000 and the installment price will be advised.
Book early and save Ksh 100, 000 pap!
Installment options

Deposit – Ksh 300,000
Payment in three months – Ksh 875, 500
Payment in six months – Ksh 901, 000
Payment in 12 months – Ksh 952, 000

Bank Financing – Up to 70%
Proposed commercially plots
We have Optiven Town within the project where Huge parking is provided, roads as wide as 12 meters to allow parking, and other value additions in this upcoming town provided for.
Call us Today: 0790 300 300
Email: admin@optiven.co.ke
George Wachiuri Blog: https://www.georgewachiuri.com
YouTube: https://www.youtube.com/user/OptivenEnterprises/featured