Kenya's consumers are calling for greater innovation in international money transfer services so they can easily manage their personal finance needs. According to Western Union's inaugural Global Money Transfer Index, 90% of Kenya's receivers want providers to offer remittance services in an integrated mobile 'super app' so they can efficiently manage collecting remittances with other commitments, such as paying for utilities.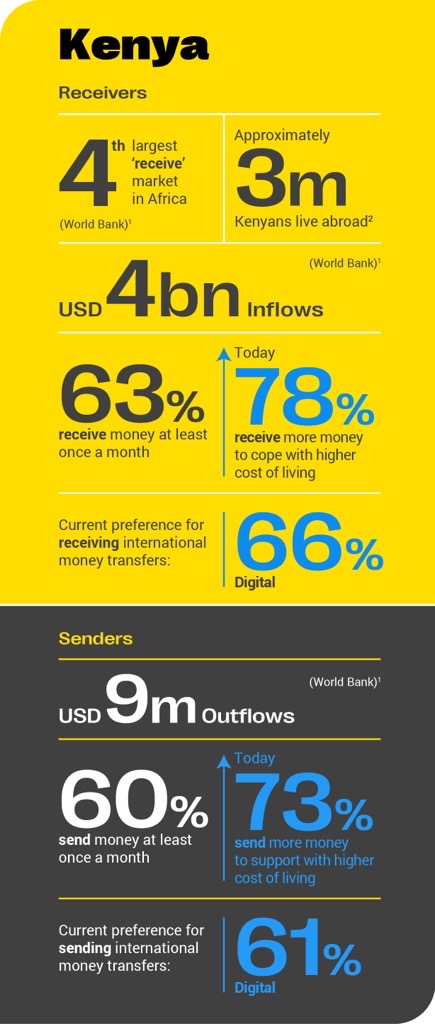 The Global Money Transfer Index asks consumers how, when and why they use international money transfer capabilities today, as well as their expectations for tomorrow. The results bolster Western Union's 'Evolve 25' strategy to combine high-value, accessible retail and digital financial services for all.
Kenya has experienced remarkable growth in financial inclusion. This, in turn, creates greater awareness and expectation for innovation that could further support daily financial needs. As the country's consumers consider what they would like more of in future, 82% would like to collect their funds in a pre-paid card or e-wallet, while the same number of receivers want providers to offer services with local language capabilities.
"Kenya is a leader when it comes to financial innovation – especially in the world of mobile money. The country pioneered mobile money in Africa and is poised to become one of the most innovative and connected economies in the world," said Mohamed Touhami El Ouazzani, Regional Vice President, Africa at Western Union. "This is reenforced by the country's consumers, who are increasingly looking for more exciting and innovative services from money transfer brands."
Digital today, choice tomorrow
Two in three receivers (66%) currently use only digital transfers, while 26% prefer both online and in-person platforms to be available. However, around double that proportion (53%) believe that in future all money transfer receivers should be able to choose, compared to 46% who will fully embrace digital.
In contrast, Kenya's senders name digital transfers as their first choice for the future (56% – rising to 61% of women) with 41% wanting a mix of online and in-person options. Some 61% of senders currently opt for digital-only services – rising to 67% of those aged 18 to 24.
"At Western Union, we strive to listen to consumers and make strategic decisions so that we can be the money transfer provider they turn to for solutions. Whether it is sending or receiving money in person or through digital platforms, we are always looking for ways to innovate our platforms so that we never fall short of meeting consumer expectations as they manage their daily financial needs," Ouazzani said.