George Wachiuri, the CEO of Optiven Group, has released his latest book titled AFTER THE PLUNGE – the story of a shocking scam and merciful restoration.
The book details Wachiuri's personal experiences in navigating a financial scam that almost destroyed his business, and how he was able to recover and rebuild.
The book offers practical insights and guidance to the business community on how to recover from financial setbacks, rebuild trust with customers, and lead with integrity.
During interview with media, Wachiuri said that it is a gripping tale of devastation, restoration, and redemption that will inspire readers in both their personal and professional lives.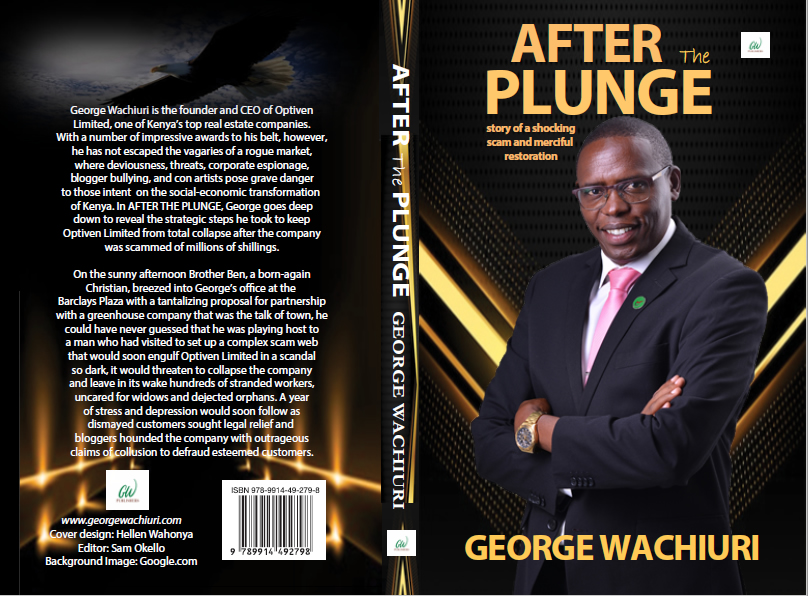 He noted that to celebrate the launch of the book, he (Wachiuri) is hosting a MEGA BOOK LAUNCH event.
"Attendees will have the opportunity to meet the author, learn more about the book, and receive practical advice on how to apply the principles discussed in the book," Wachiuri said.
Wachiuri said that the event promises to be an exciting opportunity for business leaders, entrepreneurs, and anyone looking to achieve success in their personal and professional lives.
In addition to AFTER THE PLUNGE, Wachiuri has authored two other books, soaring like an Eagle and Unleash Your Potential.
Soaring like an Eagle is a memoir that tells the story of Wachiuri's rise from poverty and hopelessness to become a top corporate leader in Kenya.
The book is filled with wisdom and practical advice for anyone looking to achieve great success in life.
Unleash Your Potential, on the other hand, is a guidebook for entrepreneurs looking to grow their businesses.
Wachiuri shares the exact steps he took to build Optiven Group into a successful empire, discussing the importance of social media, teamwork, vision, time management, marketing, and innovation.
The Optiven Group Chief Executive will also discusse the effects of social media, power of teamwork, place of vision, time management, marketing and innovation in building a business.
Are you interested in attending the MEGA BOOK LAUNCH? Register now on https://bit.ly/AfterThePlunge-Launch to receive more information.