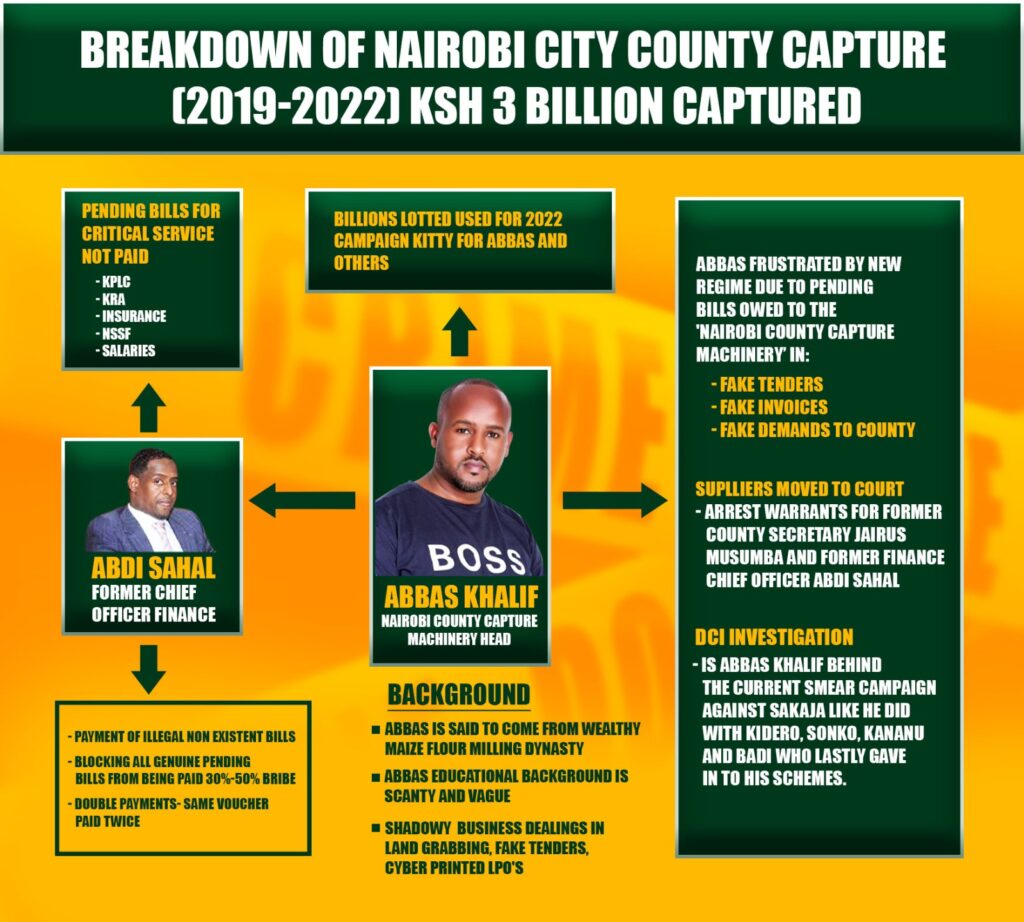 Shady dealings orchestrated by MCA Abass Khalif and his syndicate resulted in over 3 billion in losses between 2019 and 2022 for Nairobi County.
Startling revelations have emerged, shining a light on a clandestine operation led by MCA Abass Khalif, which plunged Nairobi County into an abyss of corruption, mismanagement, and financial turmoil. Unveiling the intricate web of deception, it is now evident that the syndicate's influence reached far and wide, causing the downfall of past county administrations and persistently obstructing genuine efforts towards progress.
A Reign of Inefficiency: Unveiling the Nairobi County Capture Syndicate
Under the leadership of MCA Abass Khalif, the Nairobi County Capture syndicate executed a meticulously orchestrated plan that saw the embezzlement of over 3 billion from public coffers between 2019 and 2022. This intricate operation was responsible for the perpetual underperformance of successive Nairobi County Governments, rendering essential public services ineffective and inaccessible to the citizens.
A Targeted Smear Campaign: Governor Sakaja's Battle Against the Cartels
Recent attacks aimed at the administration of His Excellency Governor Johnson Sakaja have exposed the extent of the syndicate's nefarious activities. Governor Sakaja's commitment to streamlining county operations and eliminating corruption posed a direct threat to the cartels' stranglehold on power. In response, the syndicate has resorted to a malicious smear campaign, aiming to tarnish the reputation of the Governor and undermine his reform efforts.
Behind the Scenes: Unmasking the Cartel's Leaders
At the helm of this sprawling cartel is MCA Abass Khalif, mastermind of the elaborate operation. Working in tandem with former Finance Chief Officer Abdi Sahal, the duo engaged in a variety of unscrupulous practices, including blocking legitimate payments and engaging in shadowy business dealings and land grabs. The ill-gotten gains amassed by Abass from his siphoning of City Hall funds were not only used to finance his political campaigns but are now being employed to orchestrate a campaign of misinformation against Governor Sakaja's administration.
The Dark Cloud of Implication: Investigating MCA Abass Khalif
Allegations of secret intelligence investigations into MCA Abass Khalif's activities have raised concerns of his potential involvement in the significant losses incurred by Nairobi County. As the ongoing investigation unfolds, the gravity of his actions becomes clearer, with implications that extend beyond mere financial mismanagement.
Perilous Paths of the Past: The Syndicate's Role in the Fall of Sonko, Kidero and Badi
The upcoming second edition of this exposé will delve deeper into how the Nairobi County Capture syndicate played a pivotal role in the downfalls of former Governors Sonko, Kidero, and Badi. Their reigns were marred by the syndicate's iron grip on power, revealing a sinister pattern of manipulation and corruption that has plagued the county for years.
Sakaja's Uphill Battle: Navigating the Waters of Cartel-Infested Governance
As Governor Johnson Sakaja strives to lead Nairobi County on a path of transparency, accountability, and development, he finds himself ensnared in a relentless struggle against the formidable Nairobi County Capture syndicate. Will Sakaja emerge victorious in his fight against the deeply entrenched forces of corruption, or will he succumb to the pressure and manipulation orchestrated by MCA Abass Khalif and his cohorts?
Note: This article is based on available information up to date and aims to provide an overview of the activities of the Nairobi County Capture syndicate led by MCA Abass Khalif.