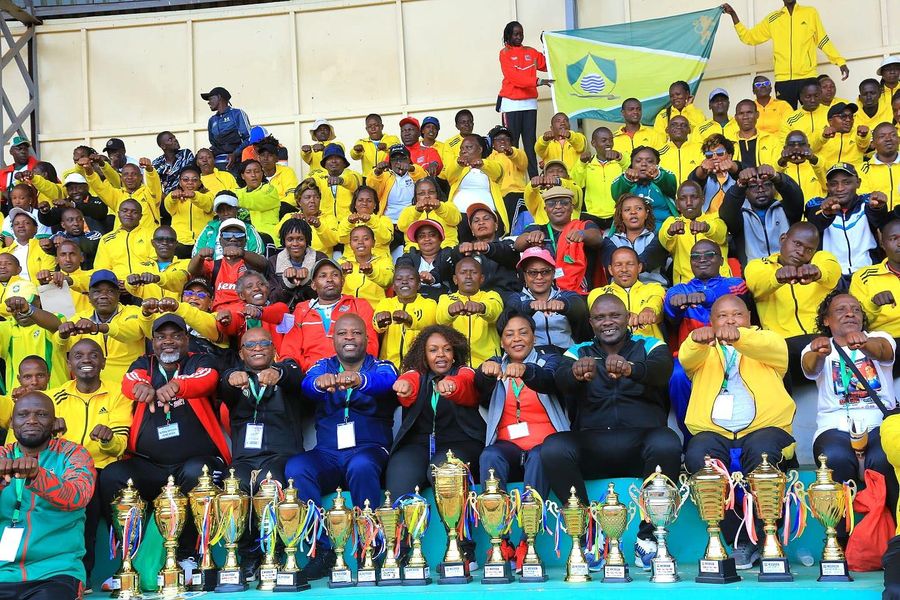 The Nairobi City County government emerged the overall winners at tenth edition of the annual Kenya Inter-Counties Sports and Cultural Association games that were held in Meru County.
The annual showpiece was from Monday August 20 and culminated yesterday Saturday 26 at various venues in Meru.
Team Nairobi soared high winning the overall title in the games held in six venues namely Kinoru Stadium, Meru TTC, Meru Polytechnic, KEMU University, Meru University and Meru School.
The counties battled it out in football, handball, basketball, netball, squash, badminton, tug of war, scrabble, netball, chess, volleyball, pool, ajua, golf, table tennis and darts. There will also be a cultural dance and choir competition
The Nairobi County Executive Committee member (CEC) for Talents, Skills Development and Care Rosemary Kariuki congratulated the team for their gallant display saying that the teams zeal to win was an inspiration.
"This win is a big inspiration to the County which has been supporting sports activities and I want to congratulate all those who won the title for us. Indeed, like our Governor Johnson Sakaja has told us in Nairobi, Lazima Iwork and indeed, we are working around all sectors," Kariuki said.
Kariuki accompanied the team to Meru alongside other county government officials including her predecessor in the Sports docket Brian Mulama who is now in-charge of Mobility and Works and the Talents, Skills Development and Care chief officer Oscar Igaida.
Kariuki thanked Governor Sakaja for his unwavering support to the team noting that Sakaja has shown his love for sports and talent development in supporting sports projects and called on other teams to emulate this love for sports from Sakaja.
"We thank our Governor Sakaja for the support he gave to this team and as we promised him when he was flagging us off, we have delivered," Kariuki said.
Sakaja has spearheaded the development of Talents, Skills Development and Care under which sports falls with landmark developments in infrastructure and support to county teams. Just recently, Sakaja led the ground breaking ceremonies at the Woodley grounds and Joe Kadenge Stadium as well as the construction of Dandora Stadium.
Sakaja congratulated the county team for their win sounding a warning to other counties to get ready for dominance of Nairobi in the sports space.
"Other counties will have to start competing for number two at the annual KICOSCA (inter county sports association games). Hongera Team Nairobi for raising the County flag high and emerging victorious at the just concluded games in Meru," Sakaja said.