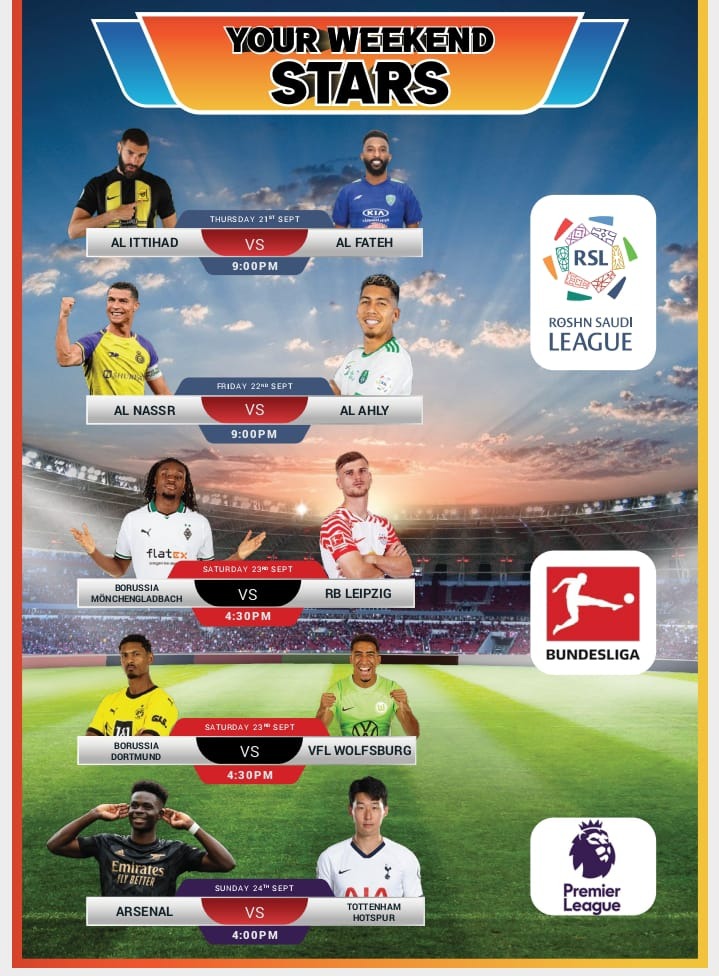 Football fans worldwide are counting down the hours to what promises to be an electrifying clash between Al Nassr and Al Ahli (StarTimes Sports premium ch.246/252) on Friday 22nd at 9PM.
Leading the charge for Al Nassr are ex-European stars Cristiano Ronaldo and Sadio Mane, both of whom have left an indelible mark on the Premier League during their stints with Manchester United and Liverpool, respectively.
Their reunion in Saudi Arabia adds a layer of intrigue to this already eagerly anticipated encounter.
Al Ahli, boast an equally formidable duo in the form of Riyad Mahrez and Roberto Firmino.
Mahrez, known for his dribbling skills and clinical finishing, adds a touch of magic to the midfield, while Firmino's creativity and playmaking abilities have earned him accolades throughout his career.
Ronaldo, a living legend in the sport, continues to defy the age with his remarkable goal-scoring prowess, while Mane's dynamic playing style and ability to conjure moments of brilliance make him one of the most exciting forwards in the game. Their partnership is the cornerstone of Al Nassr's aspirations.
On September 21, 2023, Al Ittihad vs Al Fateh at 9 PM (StarTimes Sports Premium ch.246/252) offers another spectacle, with Karim Benzema aiming to add to his league goal tally. N'Golo Kanté and Fabinho will marshal Al Ittihad's midfield as they seek victory on home turf.
Turning to Saturday (September 23rd), football aficionados are in for a treat as two blockbuster clashes converge on the pitch.
Borussia Dortmund faces VfL Wolfsburg in a battle where Dortmund aims to maintain their impressive form, while Wolfsburg enters the match buoyed by a recent victory over Union Berlin.
The advantage lies with Wolfsburg, having enjoyed a week of rest and strategizing, whereas Dortmund grapples with fatigue following their Champions League clash with PSG
In the other Saturday fixture between RB Leipzig vs Borussia Monchengladbach at 4.30PM (StarTimes Sports Life ch.243/253), RB Leipzig embarks on a challenging away encounter against Borussia Mönchengladbach.
Mönchengladbach, despite their struggles, managed a hard-fought 3-3 draw against Damstardt in their previous outing.
Leipzig, fresh from their Champions League expedition to Switzerland, faces the daunting task of maintaining their momentum in the league.