The International Federation of Landscape Architects (IFLA) World Congress in collaboration with the Architectural Association of Kenya (AAK) has officially kicked off  the 8th ILFA African symposium in Nairobi, Kenya.
Speaking during the event, Caroline Vicini, Swedish Ambassador to Kenya praised the efforts made by the built environment professionals of both countries to learn from each other and discuss climate change.
"It is important to build smart, healthy and efficient cities where people can integrate, communicate and move freely. Landscape architecture plays an important role in shaping sustainable development," she noted.
According to the United Nations Department of Economic and Social Affairs, by 2015, most of Africa's population living in urban areas rose from 27 percent in 1950 to 40 per cent in 2015. The population is projected to rise by 60 per cent in 2050. Consequently, this worsens the climate change crisis.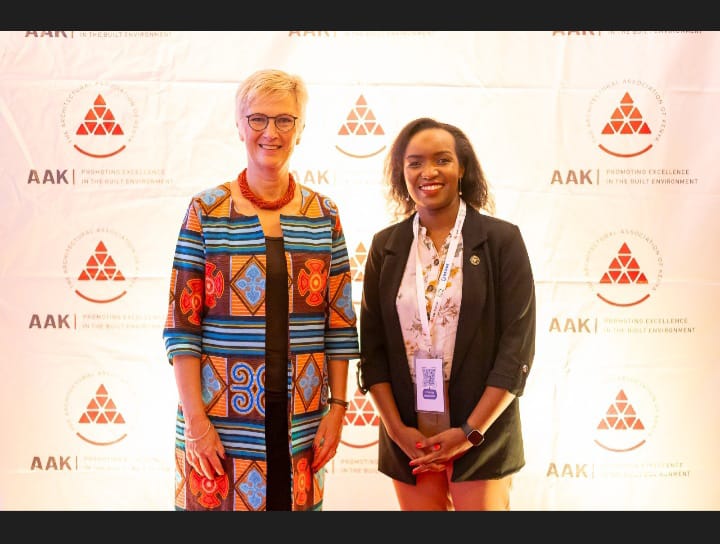 Photo: Caroline Vicini, Swedish Ambassador to Kenya poses with Florence Nyole, AAK President.
In her remarks, Florence Nyole, President,  Architectural Association of Kenya stressed on the significance of cooperation within the built environment as it enabled the professionals to reach shared environmental goals that rest on afoundation of social sustainability.
She added "This world congress will be an opportunity to promote learning and collaboration among built environment professions to find solutions to the major global challenges. The city of Nairobi relates very closely to the congress theme, with rapid urbanization, dealing with climate change, and adequate housing as priority issues."
The congress under the theme "EMERGENT INTERACTION" aims at strengthening the landscape architecture in relation to Agenda 2030 through exploring new forms of collective problem-solving, borderless strategies and possible networks of ideas and cooperation while keeping the issues of climate change, social inequality and biodiversity-loss at the forefront.
The world congress which brings together a diverse group of professionals from different facets of the built environment provides an opportunity to promote learning and collaboration to find solutions to major global challenges.
The association remains at the forefront of working towards reducing the impact of urbanizaon and the resultant Climate Change in the country througha homegrown Green Building Rang Tool that is focused on rang buildings based on our local context called the Safari Green Building Index (SGBI).
In addition, AAK has launched several programmes such as the Grow-A-Classroom Programme where they aim to increase the tree cover for Kenya within the existing large parcels of land occupied by public schools. The trees will be sustainably harvested and used to build classrooms for the growing population in the country.
The AAK is a premier association that was formed back in 1967, with Architects, Planners, Engineers and Quanty Surveyors as the first 4 groups of professionals, who today remain the only regulated professionals in the built environment.