The Saudi Pro League is bracing itself for an electrifying clash as Al Ittihad prepares to square off against the surprise bigwigs of the season, Al Taawoun.
Anticipation for this matchup has reached a fever pitch, with fans eagerly counting down the hours until the showdown, slated for October 20th at 6:00 PM, to be broadcast on Sports Premium channels 246/252 on StarTimes.
What truly set this fixture apart are the divergent paths both teams have trodden this season.
On paper, Al Ittihad boasts a star-studded squad loaded with expensive talent, setting the bar high with sky-reaching expectations. However, the reality has been anything but a fairy tale for the club.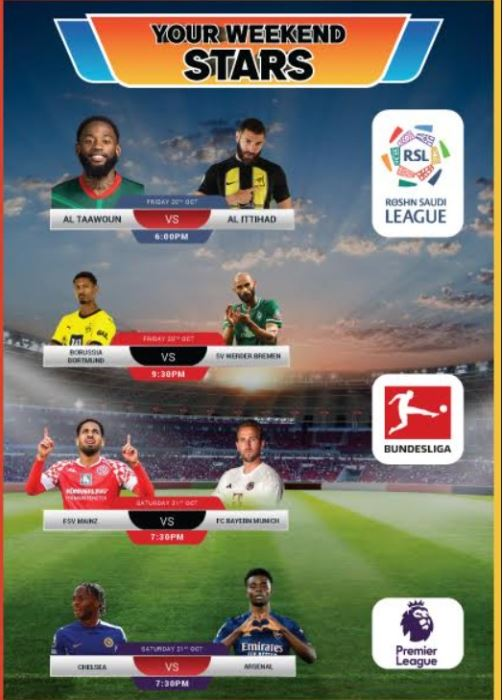 Over the course of their most recent five matches, they've faced a formidable challenge, suffering two losses and barely scraping out results in the remaining games.
The road to success has proven hard for Al Ittihad, as they grapple with outshining their upcoming opponent, Al Taawoun, who has exhibited remarkable resilience. The surprise bigwigs have dropped only one game in their last five outings, solidifying their status as a force to be reckoned with.
Al Ittihad's quest for redemption and glory continues, but it won't come easy against the resilient Al Taawoun.
Another enticing fixture in the Saudi Pro League awaits football enthusiasts on October 21st at 6:00 PM, also available on Sports Premium channels 246/252 on StarTimes.
Al Nassr, riding high on a wave of success, is set to face off against Damak, a team that finds itself in the shadows in terms of talent and league standing.
Al Nassr has been on a roll, securing four wins and a draw in their last five outings.
This remarkable run of form has propelled them to a position of strength, evident in their league standing.
On the other side, Damak, has struggled, currently occupying the 10th position in the league. However, football has a way of defying expectations, making every match an unpredictable and thrilling affair. Star players like Ronaldo and Mane will have their work cut out for them as they strive to make an impact in this intriguing encounter.
October 21st at 7:30 PM marks a crucial fixture in the Bundesliga, with FSV Mainz 05 and FC Bayern München squaring off, set to be broadcast on World Football channels 254/245 on StarTimes.
FSV Mainz 05 finds themselves in the midst of a challenging period, securing just one victory in their last five matches.
Despite their recent disappointing form, the team views this fixture as an opportunity to rejuvenate and regain the confidence they've lost.
On the other hand, FC Bayern München continues to assert their dominance and aims to maintain their successful streak. This match also serves as pivotal preparation for Bayern ahead of their forthcoming Champions League clash against Galatasaray.
The football frenzy extends beyond the weekend, as Borussia Dortmund, currently residing in second place, is set to face off against SV Werder Bremen.
Dortmund has had a remarkable start to the season, securing victory in four out of their last five games. Their offensive prowess and impeccable form have cemented them as a team to watch.
On the other hand of SV Werder Bremen, they find themselves mired in a difficult position, languishing in 14th place after a string of consecutive defeats.
With intense competition in the bottom seven of the league, Bremen faces a daunting challenge against the high-flying Dortmund side.
The match is scheduled for October 20th at 9:30 PM, to be televised on World Football channels 254/245 on StarTimes.