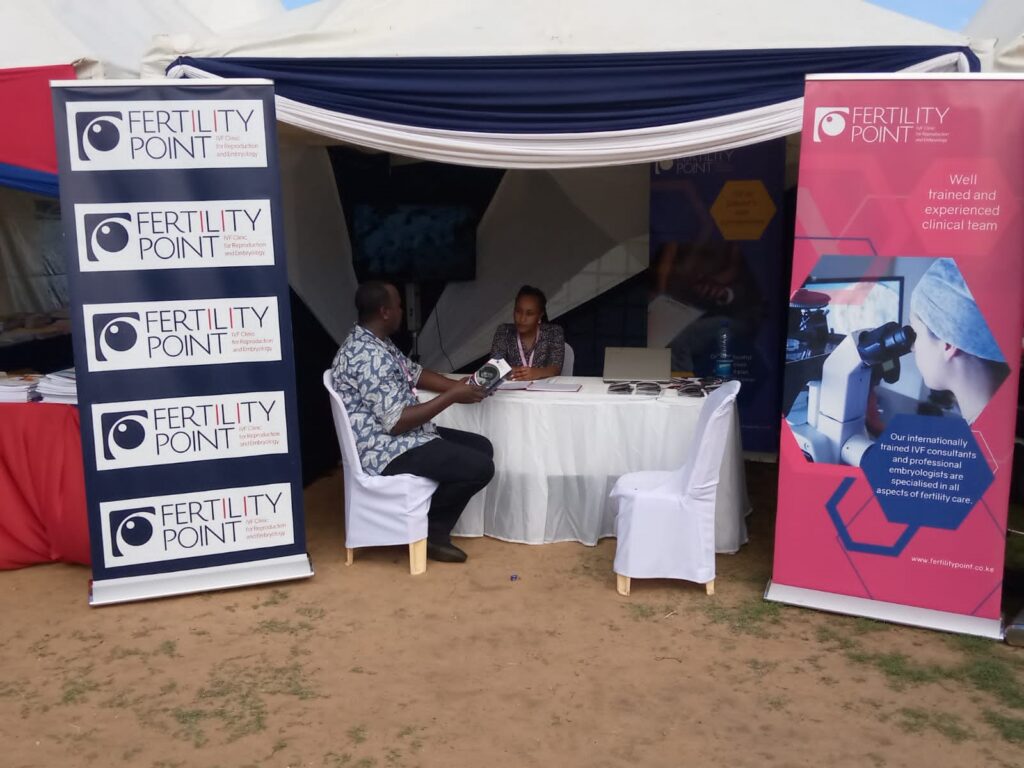 NAIROBI, Kenya, Dec. 29, 2021 – At the heart of the AGM Meeting for the Kenya Primary School Heads Association (Kepsha) held at Sheikh Zayed Hall in Mombasa, is the astounding team of Fertility Point. Fertility Point is a world-class fertility center committed to helping patients struggling with fertility challenges.
During the four-day conference from 27th December – 30th December 2021 officiated by Education Cabinet Secretary Prof George Magoha and Principal Secretary for Early Learning and Basic Education Dr Julius Jwan, Fertility Point's team of highly qualified and internationally trained fertility experts will help anyone who is struggling with infertility get the assistance they need.
Patients who visits the clinic's tent at the conference will have a chance of getting a free consultation on any fertility-related concern, interact with FPK's fertility experts, understand the available treatment options for infertility and ultimately get help. They will also be gifted with special hampers from the clinic.
The ongoing free fertility medical camp, by Fertility Point has been hailed by delegates and Mombasa residents as timely.
Forty-three-year-old Amani Thethe could not hide her excitement after learning that the clinic had brought free fertility consultation services right to her doorstep. "We are privileged to have fertility treatment services brought close to us. I have been suffering from hormonal imbalances which have affected my chances of getting pregnant but the hassle of getting treatment here in Mombasa has put me off," she narrates.
"Today, I'm overwhelmed with joy after receiving fertility treatment services I had longed for. I have been told that my condition is one of the common causes of infertility among women, so I shouldn't lose hope because there are treatment options that can help me conceive. The most
exciting thing is that I have not paid even a single coin. However, I have booked an appointment for further assessment of my condition and help," she added.
For Jumuia Abdallah a 37year old had an opportunity to get free and personalized fertility services is always welcomed. She notes that the stigma associated with infertility scares a lot of people, resulting in a population that is silently suffering from diseases but unable to do much about it.
"I want to encourage those who haven't taken advantage of this free medical camp to do so. I want to thank Fertility Point for trying to debunk the myths around infertility and bring such crucial services closer to the people," she explains.
Fertility Point is among the world's largest providers of fertility services with outlets in 12 countries globally. In Africa, it has set up a Centre of Excellence in Kenya.
Since its inception in 2018, Fertility Point has been offering quality and affordable treatment to men and women by providing first-rate diagnosis of infertility and effective treatments, including In Vitro Fertilization (IVF) and Intrauterine Insemination (IUI). IVF treatment costs range between Ksh 450,000 and Ksh 550,000.
"We have undertaken over 700 successful cycles of IVF and helped more than 1000 patients in aspan of five years who have become parents in our three years of operation. Considering the risk factors surrounding the IVF practice and the challenges presented by patients, Fertility Point's over 65% success rate is one of the best," said Dr. Rajesh Chaudhary, Fertility Point's lead IVF expert.
On his part, Mr. Philip Gacheru, Director Operations at Fertility Point Kenya attributed the need to hold the medical camp in Mombasa due to increased cases of infertility across the the region of the country. "Every day we have clients who visit our clinic requesting to get help conceive a child, and we celebrate each time we get the news that a baby has been born. We feel privileged to have helped many people fulfill their dreams of becoming parents and we now want to expand our reach across the country." said Philip Gacheru.
Going forward, Fertility Point has endeavoured to affirm its commitment for the benefit of multiple stakeholders including patients, employees, suppliers, partners, the community, regulators, and the government.
About Fertility Point
Fertility Point Kenya is a leading fertility center in Nairobi, Kenya. Managed by an experienced team of renowned fertility experts, this technologically leading IVF clinic provides the latest advancements in fertility services. Fertility Point delivers high-quality, personalized care based on best international practices. The clinic offers a wide range of fertility services including ovulation induction, IUI, IVF, egg donation, and pre-implantation genetic testing.
Fertility Point is the largest provider of fertility services in the world available in 12 countries. In Africa, with it's headquarters based in Nairobi Kenya. Every year, thousands of couples visit our fertility clinics across Europe, GCC, and Latin America with the fond hope of fulfilling their dream of parenthood. By using the latest fertility technology and with an absolute focus on quality outcomes, Fertility Point clinics across the world have laid the foundation for above-average success rates, global reputation, and patient satisfaction.
Email Adress:enquiry@fertilitypoint.co.ke
Phone call :0787050074 / 0792111222
Geographical location:
Headquarters in Nairobi Kenya.
Fortis Suites, Ground and First Floor, Hospital Road, Upperhill, Nairobi