By Nemuel Ondima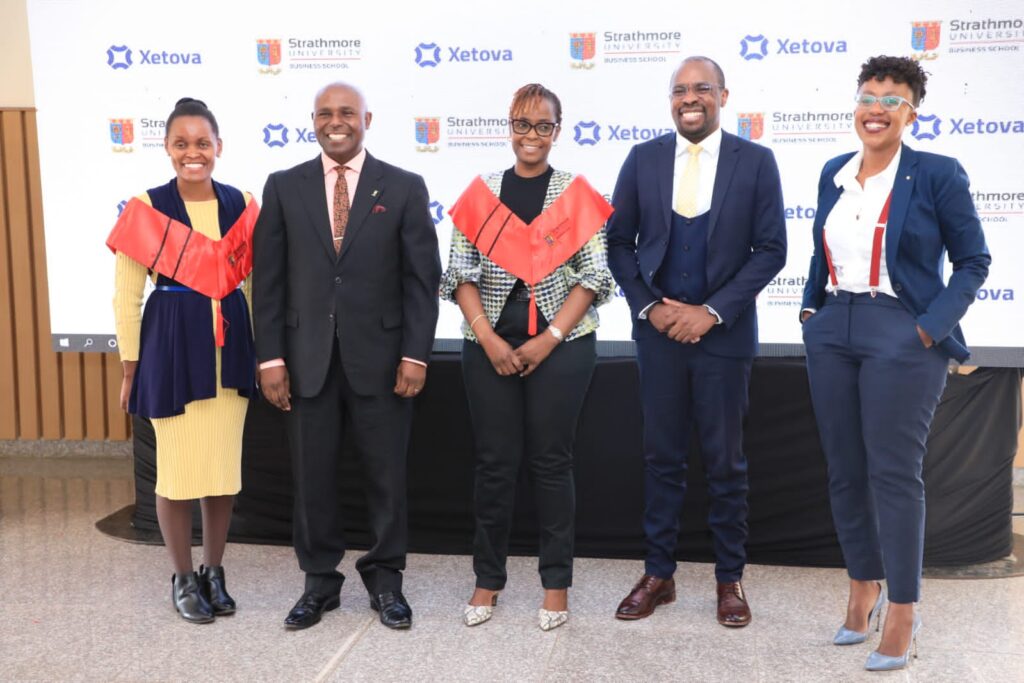 Strathmore Business School, in partnership with Xetova, a technology
company with a key focus of helping organizations utilize their data more effectively, has trained
more than 106 executives in an Artificial Intelligence-based supply chain transformation program
intended to transform their organizations' procurement processes.

The executives drawn from 54 organizations cutting across both private and public sectors, were
trained on usage of data in their supply chain strategies to make the right management decisions.
The inaugural cohort of 75 executive leaders graduated today in a colourful ceremony at the
Strathmore Business School graced by a host of industry captains.

All the 75 graduates are heads of supply chain/procurement in their organizations.
Notable speakers at the graduation ceremony included the AstraZeneca, Head Africa
Acceleration, Dr. Sylvia Vito, The National Cereals and Produce Board (NCPB) Managing
Director. Joseph Kimote, the MP Shah Hospital Chief Operating Officer Dr. Joan Osoro-Mbui
and the Safaricom head of Supply chain, Maryanne Karanja.

"The training program is a value platform to empower teams to be confident and well informed
in making decisions. We are happy to have supply chain experts and leaders begin to tell
transformation stories within their organizations, these are stories worth telling" noted the
Xetova Founder and Managing Director, Bramuel Mwalo.

With an aim to Unlocking Africa value chains through data utilization and collaboration, Xetova
is providing solutions to challenges across Africa, by leveraging information technology and data
analytics to help organizations build on resilience and innovation sustainability.

With one of the key Pillars for Xetova being people, For the past 6 months, Xetova has been in
partnership with Strathmore Business School, creating a platform for Executive leaders and
decision makers within supply chain to access the right tools, that drive them towards
transformation.

''For Transformation to happen, then you must empower the people first. This was a thorough
program that provided a platform for Participants to brainstorm within teams on the gaps within
their supply chain and get to think of solutions on how to mitigate these challenges existing within
their organizations. Xetova's key focus was to empower the executives first then provide the
right tools and strategy support" said Silvia Njambi, in charge of programs for East Africa at
Xetova.

A big part of the Xetova team comprises of young talented senior software engineers and data
scientists who help to develop technology-led solutions for clients.
Xetova handles the full spectrum of supply chain needs for buyers, suppliers, financiers and
distributors.