Dr Catherine Nyongesa has risen to be one of the best and most respected doctors in east and central Africa.
Catherine who started Texas Cancer Center in Nairobi,Kenya a few years ago has managed to help cancer patients from all over Africa and her clinic is considered to be the best in east and central Africa.
Dr Nyongesa who is a well respected oncologist has managed to change and transform lives of patients all over Africa.
Dr Nyongesa was born in Kenya in 1970.She completed her primary education in Mingeti primary school then proceeded to Misiko secondary school.
She then enrolled at the University Of Nairobi School Of Medicine, where she graduated with a Bachelor of Medicine and Bachelor of surgery (MBChB) degree.In 2002, she was admitted to the University of the Witwatersrand in Johannesburg South Africa.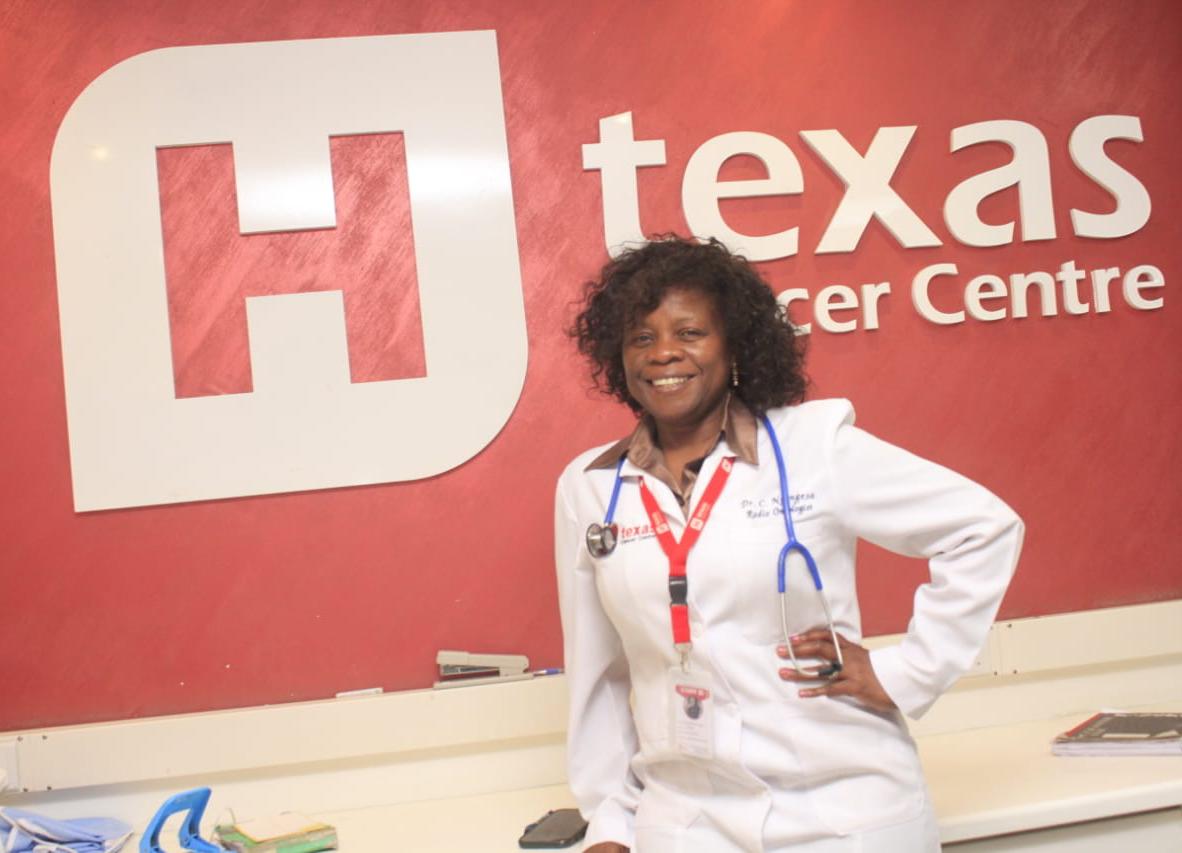 There, she was enrolled into a three-year residency program to study to become a radiation oncologist, graduating in 2005 with a Master of Medicine (MMed) degree, in Radiation Oncology. Later she was elected as a Fellow of the College of Radiation Oncologists of South Africa (FCRO (SA)).
Following her specialized training in South Africa, she returned to Kenya and was hired as a consultant radiation oncologist at Kenyatta National Hospital, the largest tertiary-care public referral hospital in the country.
The case load was heavy, and all patients could not be helped, in the public setting so she decided to venture out and start her own cancer clinic.
In 2010, Nyongesa and her husband, a practicing pharmacist in the Houston-area, Texas, United States, started Texas Cancer Centre Nairobi. Initially the Centre only offered chemotherapy treatment as an outpatient service.
Later, the couple borrowed KSh100 million (approx. US$1 million), to built an inpatient facility at a second location in Nairobi.
With assistance from the University of Texas MD Anderson Cancer Center, the Nairobi center acquired and installed a radiotherapy machine, set up a diagnostic laboratory and acquired x-ray machines and ultrasound equipment.
As of July 2022, the centre has over 70 full-time staff, handling over 150 outpatients daily, and offered accommodation at a reasonable fee to out-of-town outpatients.
The centre has expanded to a total of two locations in Nairobi(Mbagathi& Upperhill) and has managed to touch and change the lives of millions of people.
Dr Nyongesa is the first woman radiation oncologist in Kenya. She serves as chairwoman of the Kenya Society of Hematology and Oncology (KESHO).
She is also a clinical coordinator at the Cancer Treatment Centre of Kenyatta National Hospital and an honorary lecturer at the University of Nairobi.
She credits her father and mother for pushing her to be the best that she could be and her siblings for shaping her.
According to Dr Nyongesa she was first encouraged to pursue Onchology when she realized there was a gap and there are very few Oncologists in Kenya.
She then proceeded to pursue this path& now she trains and mentors many young and upcoming oncologists.
Catherine believes that if you do good in the world and give back good will automatically come back to you.
Dr Nyongesa's children are among those who are proud of her and follow in her footsteps with her first born daughter Cynthia now pursuing her PHD in Neuroscience abroad.Her son Nelson pursuing Projection Mapping and last born son CJ will graduate high school in a few months time.
Catherine is a God fearing lady who credits God for her success.She always puts God first in everything she does and saving lives is what makes her get out of bed every morning.Her goal is to continue serving humanity through her gift, opening more centres and training more onchologists.
Catherine is always there for her kids and always encourages them to find their path and fulfill their purpose.She always encourages them to build a huge network as this is one of the major keys to success.