The warmer days are finally here, and it's an ideal time to start thinking about re-doing outdoor spaces. The article below highlights a few tips on how to transform your old outdoor area into a fabulous space that will allow you to fully enjoy this season.
Take your outdoor area from drab to fabulous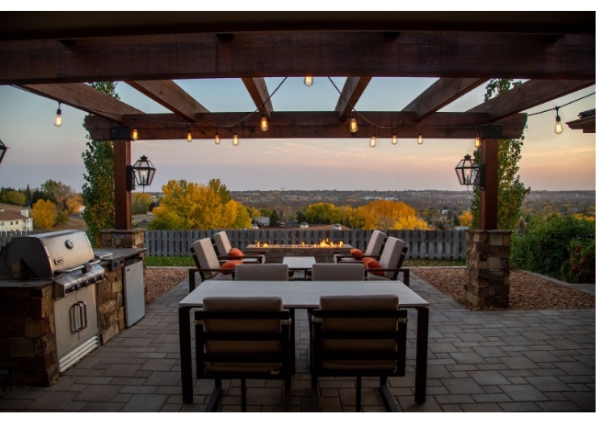 Dreamy evenings spent on the deck outside and fun al fresco dinners with friends on the patio… Now that the cold season is over, it's time to take advantage of the beautiful balmy evenings our climate is famous for, and we spend time entertaining and relaxing outdoors. If your patio needs a bit of a boost, a few smart moves can help you transform it. Over the past two years or so, we have seen spaces traditionally reserved for one activity serve double purposes-the dining table that's a work-from-home desk, the guest bedroom that's also a makeshift gym. Similarly, people now want patios and outdoor spaces that are beautiful but also functional.
Whatever kind of feel you want to create, the ideas to create great outdoor areas where we can entertain in style or just spend quality time enjoying the space ourselves are unlimited.
Furniture and decor
There's nothing like ratty furniture to make a patio look tired and dated. Transform it into a stylish and inviting space with furniture that's sophisticated but that can withstand the weathering of seasons. Rattan furniture is such a quintessential look and is chic in granite grey or Scandi neutrals.
"Think about how you plan to use your outdoor space," advises Alen Ribic, co-founder of SweepSouth. "If it's to relax, set the tone with comfy padded seating that invites you to sit back and put your feet up while you enjoy the outdoors. Group furniture together in an L-shaped seating arrangement, with a low table for decorations, like bowls or container plants. "
Accessorise the seating with outdoor cushions in pops of bold accent colours or botanical prints and an outdoor rug. Also on point, egg chairs are made for retreating into. If your patio space is destined for alfresco meals, create an inviting dining space. A long table with benches is great for bigger areas, while a bistro set is perfect for two. For evenings that need an extra wow-factor, wheel in a smart drinks trolley.
Shady spots
Don't forget to include garden shade to keep everyone cool. Float a lightweight sail over seating to create a shady break, or consider a sturdy freestanding outdoor umbrella that allows you to angle or move its position depending on the time of day.
Retractable awnings attached to an exterior wall are ideal for small spaces and to shade patios, as are wooden pergola structures. You can stretch fabric over a pergola, or encourage climbing plants to cover it for a beautifully natural shaded area.
"Choose a fragrant climber like jasmine, wisteria or sweet peas to envelop the space in scent," says Alen. "And if you plant a tree or a large shrub strategically, it can grow to provide shade where there is none."
Remember to clear out any old, broken furniture and donate any play or gym equipment you and your family have outgrown. Trim and tidy up any hedges and bushes that form a backdrop to your space too.
Art outside
Style your outside area with interesting pieces of art. Statues provide a striking visual touch, with larger pieces best used as a focal point and smaller statues as accents. Outdoor wall plaques are quirky, while decorative wall screens in plastic or metal look beautiful and provide both shade and privacy. You could also group hurricane lanterns together as an artistic feature, with lit pillar candles inside for a beautifully gentle glow on balmy evenings.