The Kenya Film Classification Board (KFCB) has raised concerns over increased sharing of graphic and disturbing audio-visual content on social media platforms in utter disregard of the interests and safety of children and other vulnerable members of society.

Addressing journalists today, Wednesday 26th April 2023, at the Boards Uchumi House offices in Nairobi, the Ag. Chief Executive, Christopher Wambua, noted that in the recent past, the vice has not only become rampant but also taken a disconcerting turn with some bloggers and social media users sharing extremely offensive video content with the potential to cause harm to minors, a case in point being the recent streaming of graphic content of a mother killing a minor in Kitengela.
The Board has also noted an increase in misuse of digital apps from 10.00pm onwards by social media users, some who host and stream live video sessions of explicit adult shows in blatant breach of the laws of the land.
We have further noted that some apps are being transformed into digital brothels from midnight onwards. Equally worrying is the non-consensual dissemination of intimate images or videos of individuals in violation of privacy laws," the Ag. CEO said, adding that all these activities are happening at a time when children, who are heavy users of the internet and social media, are at home for the April holidays.

"As a society, we need to step back for a moment and reflect on the following: Are we losing the values that define us as a people? Put differently, have we lost our African philosophy of Ubuntuism –loosely defined as 'I am because you are'? As a society, are we beginning to revel in and celebrate seeing others go down? Are we harnessing the true value of the social media in general and film in particular? Have we, as a people, normalised violence and misogyny to the point of being insensitive to these vices? Are we sufficiently dealing with issues of mental health as a society? Are we really looking out for the interest of the child as we interact with technology or are we turning the internet, which is one of the most transformative innovations of our time, into the Wild West?, the Ag CEO posed.
Wambua stated that the freedom of expression, which is enshrined under Article 33 of Kenyas Constitution, is not absolute, noting that it has certain limitations. "Freedom of expression must also be interpreted within the broader context of other provisions of the Constitution, including Article 11 on culture, Article 24 on the limitation of rights and fundamental freedoms and Articles 53 and 55 which advocate the rights of the child and the youth respectively. Offenders, therefore, ought to take note of this," the CEO said

Mr Wambua said it is illegal to share intimate images or videos of other parties without their consent, noting that section 37 of the Computer Misuse and Cybercrimes Act criminalises sharing, transfer, publishing or dissemination including making a digital depiction available for distribution or downloading through a telecommunications network or through any other means of transferring data to a computer, the intimate or obscene image of another person. A person who commits this offense according to the law is liable, on conviction to a fine not exceeding Ksh200,000 (Two Hundred Thousand Kenya Shillings) or imprisonment for a term not exceeding two years, or to both.

"Further, Article 31 (c) of the 2010 Constitution provides for the right to privacy over information relating to ones family or private affairs. This provision protects ones intimate images from being unnecessarily required or revealed. In the recent past, our Courts have imposed highly punitive fines on violators of this provision. Victims of such gross violations, therefore, should not suffer in silence but seek legal redress for the perpetrators, the Ag. CEO said.

In addition, Wambua empasised that the laws of Kenya outlaw the distribution and possession of obscene cinematograph films meant to corrupt the morals. In particular, Section 181 (1) (a) of the Penal Code states that any person for the purpose of or by way of trade or distribution or public exhibition, makes or has in his possession any obscene cinematograph films tending to corrupt morals is guilty of a misdemeanour and is liable to imprisonment for two years or to a fine of Seven Thousand Shillings. Therefore, persons that are streaming explicit sexual content on social media platforms risk arrest and prosecution, the CEO said, adding that the Board has been and shall continue to monitor various platforms with a view to collecting evidence for onward transmission to the Directorate of Criminal Investigation (DCI) for prosecution.

To curb further exhibition and sharing of explicit audio-visual content on social media platforms, Wambua said that the Board has begun monitoring various platforms to ensuring that those in violations of the law are brought to book. He appealed to parents, caregivers and guardians to exercise personal responsibility and to keenly monitor the content children under their care access on social media networks, broadcast channels and other platforms.

In cases where children have access to the internet and smart devices, the Ag. CEO advised parents to exercise responsibility to ensure minors do not access inappropriate content. He further urged parents to activate the safety features available on various platforms and smart devices used by minors in order to protect children from corruption of their morals, he said.
The Ag. CEO also urged social media platform operators, online distributors and exhibitors to enforce their community guidelines strictly to avoid misuse of their platforms, noting that moderation of content in their respective platforms must be in alignment with Kenyas laws and cultural values, adding that they also need to institute appropriate parental control mechanisms in the interest of enhancing online safety, especially for children.

"Social media users need to reflect on child online safety before sharing video/film content on digital platforms. If in doubt, they should make reference to the film classification guidelines which KFCB uses to assign age-appropriate ratings. The said Guidelines are available on our corporate website at no cost. We also urge registered audio-visual content platforms and operators across the country to ensure they adhere to the provisions of cap 222 and other laws, including creating content that does not compromise our culture, moral values and national aspirations, the Ag CEO added.

Going forward, Wambua said that the Board shall continue to monitor and flag offensive and disturbing audio-visual content and report the same to relevant Government agencies and platform operators for appropriate action.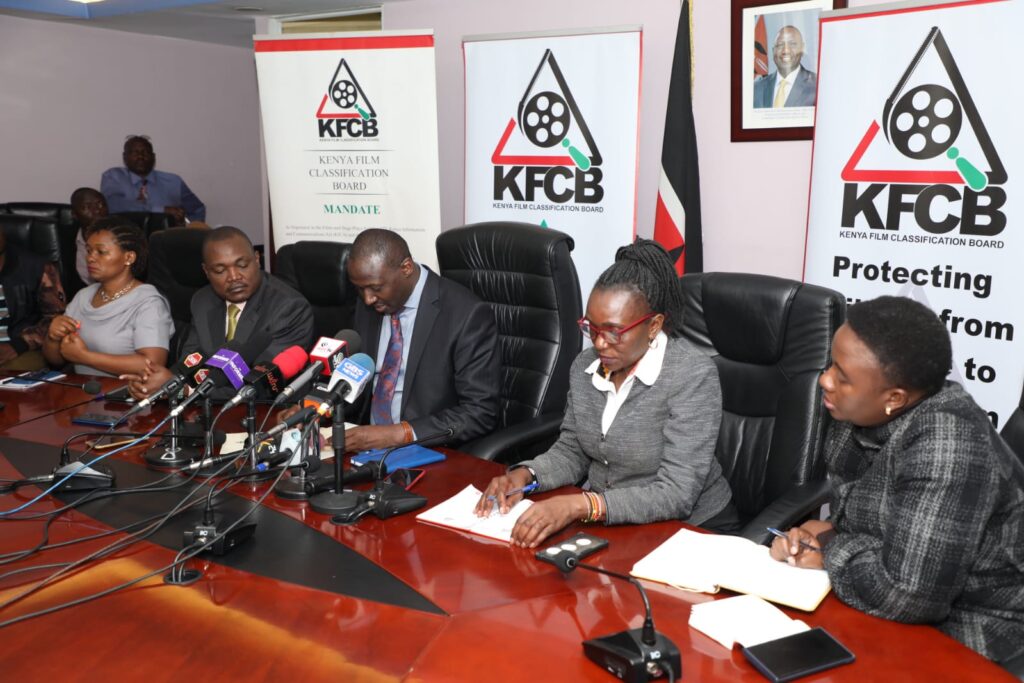 In collaboration with relevant public and private sector agencies, the Board will continue empowering parents/caregivers with the necessary skills and knowledge to enable them help children navigate the online environment safely. Through the Parental Digital Literacy (PaDiL) Programme, the Board has joined hands with Netflix, Tik Tok and Google to empower parents with knowledge to undertake their parenting responsibilities effectively in an increasingly digital environment, he indicated.
On the same note, Wambua said that the Ministry of Youth Affairs, the Arts and Sports, in consultation with the Board, is reviewing the legal and policy environment with a view to ensuring an enabling regulatory and legal environment in the sector. "As I speak, the parent Ministry has published the revised Film and Stage Plays regulations and film classification guidelines for public participation. We encourage industry players and other stakeholders to submit their inputs on the draft regulations and guidelines before 28th April 2023 when the consultation will close, he added.