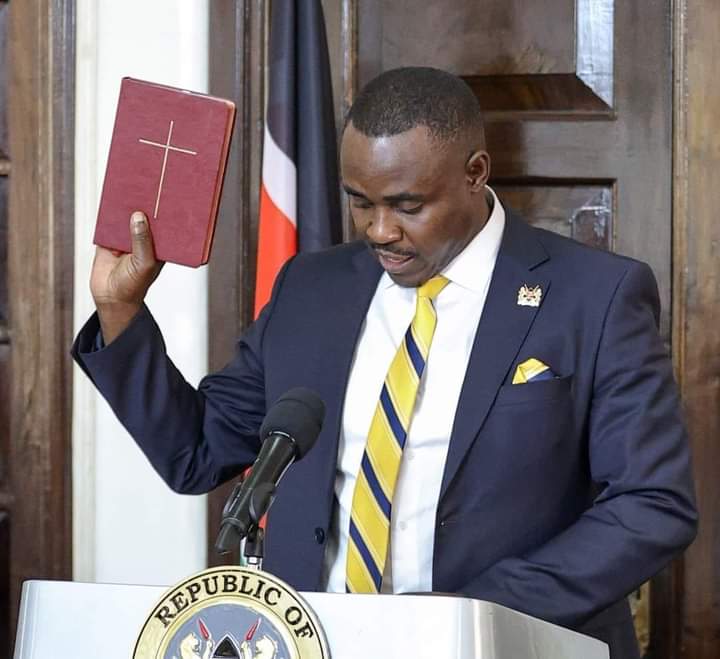 UDA party secretary general Cleophas Malala swearing in as Cabinet Secretary without portfolio
President William Ruto has roped in the United Democratic Alliance (UDA) party secretary general former Kakamega senator Cleophas Malala into his Cabinet as a Cabinet Secretary without portfolio.
Malala, who made his presence felt after making a pronouncement that he will steer the ruling party in the way of expunging graft from the William Ruto administration by monitoring all members of the cabinet was allowed into Ruto's Cabinet meetings, a move that ostensibly asserts his role in Ruto's government.
President Ruto today officially allowed Malala to sit in and oversaw his swearing in as CS without portofolio alongside his Defense advisor Monca Juma and Economic advisor David Ndii.
Last weekend, the UDA Secretary General Cleophas Malala said the party will evaluate CSs and call out disowning any CS involved in acts of corruption eliciting mixed reactions from leaders. Malala will now execute the roles of a Cabinet Secretary in Ruto's government which has vowed to eradicate corruption.
Malala was on Tuesday given the green-light to attend cabinet meetings with immediate effect. This was ratified at Tuesday's cabinet meeting and marks a return to the trend established by former President Uhuru Kenyatta's administration where Jubilee Party Secretary General Raphael Tuju, was appointed Cabinet Secretary without portfolio, attending all cabinet meetings.
Mr Malala's inclusion in the cabinet comes barely four months after he was appointed UDA secretary general, replacing Ms Veronica Maina who was nominated for the Senate.
Under former President Kenyatta, his cabinet appointments in his second term included Jubilee Party's Secretary General Raphael Tuju who was made a Cabinet Secretary without portfolio.
The position left many Kenyans confused because it was the first time the title was introduced in government.
Just likeTuju, Malala's role will be to monitor the government performance against the targets set during the campaign period.
UDA Party made promises to Kenyans of what the Ruto administration intends to do in their five year term will be the responsibility of the ruling party secretary general, in his role as CEO to monitor what Cabinet secretaries are doing to ensure that the government is on the right track as per the Party's manifesto justifying his position in sitting incabinet.
Malala's primary responsibility at the moment is to build a credible political Party and also encourage such initiatives that will support peaceful coexistence in Kenya meaning that there is an empirical evidence that a strong party is a prerequisite to having a peaceful country and Malala has exuded confidence that he is ready to steer the UDA administration into ensuring that the government delivers on its promises.
Malala will, in his capacity as the President's party CEO represent the president in several meetings that involve sister political parties. Along with Ndii and Monica Juma, the SG will be at the center the Kenya Kwanza administration's efforts to revive the economy.