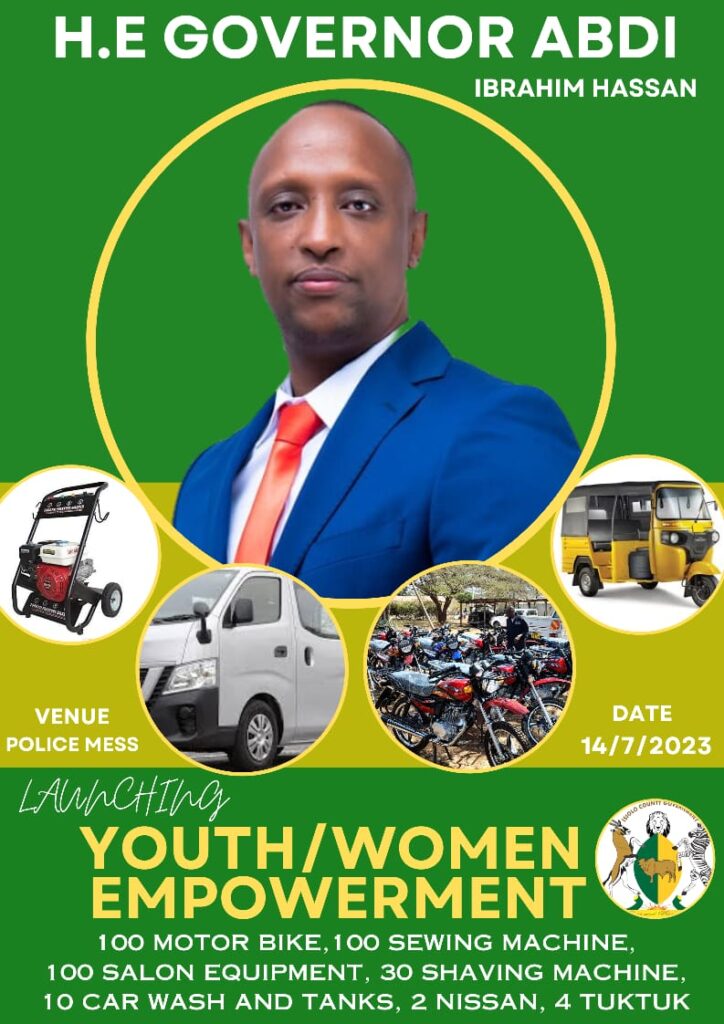 Women and the youth in Isiolo County are set to benefit from an elaborate empowerment program which will target small, medium and micro enterprises in the county.
The Isiolo County Governor Abdi Ibrahim Hassan Guyo will tomorrow, Friday 14th July, 2023 launch the Isiolo County Women and Youth empowerment program at an event that is scheduled to be held at Isiolo's police mess.
Governor Abdi Hassan visualizes a society where the youth and women have an equal opportunity as other citizens to realize their full potential, productively participating in economic, social, political, cultural and religious life without fear or favour.
Women and youth group members are earmarked to benefit from the first of its kind project by the county government which will offer different assets to he groups.
Despite the Governor's vision for the youth and women in the county, the groups in Isiolo continue to face a myriad of challenges including the lack of employment, lack of basic youth support services, substance abuse, youth reproductive health issues and breaking of family as well as societal value system.
On offer in the launch by Governor Hassan, the county government of Isiolo will offer 100 motorcycles that will benefit bodaboda riders, 100 sewing machines, 100 sets of salon equipment and 30 hair shaving machines.
Other items to be distributed among the groups will include 10 car wash machines and 10 tanks, two Nissan vehicles and four Tuk Tuk vans.
Governor Hassan said that the move is aimed to empower the youth and women in the county to realise economic growth and development during the hard economic times.
"We have experienced a devastating drought and empowering our people to engage in economic activities is a sure way of ensuring that our people have a livelihood," Governor Hassan said.
"We have big plans for our great people of Isiolo and this is just the beginning. Tomorrow (Friday), we converge at police mess for this ground breaking launch which will see our people get motor bikes, sewing machine, Tuk Tuks, kinyozi machines, salon equipment and even vehicles for them to engage in business to benefit their lives," the governor added.
This is the first time that a county in the region is coming up with a plan to help the youth and women in business startup programs.