Ubongo, kampuni inayoongoza kwa uzalishaji wa vipindi vya elimu burudani Afrika, ina furaha kuwatangazia maadhimisho ya miaka 10 tangu kuanzishwa kwake, ikisherehekea muongo mmoja wa kuleta mabadiliko katika elimu na kuwawezesha mamilioni ya watoto katika bara hili.
Kupitia mkusanyiko wa programu za elimu zinazovutia ikiwemo Akili and Me, Ubongo Kids, bila kusahau Nuzo and Namia iliyoanzishwa hivi karibuni, Ubongo imeendelea kuwa kinara katika nyanja ya ubunifu katika ujifunzaji wa watoto.
Tangu kuanzishwa kwake Julai 2013 hapa Dar es Salaam, Tanzania, Ubongo imejikita katika kutengeneza maudhui ya elimu yenye kufurahisha, kuelimisha na yenye kuzingatia lugha na tamaduni za Kiafrika zinazomfanya mtoto apende kujifunza.
Kupitia teknolojia mbalimbali kama vile TV, redio, na simu za mkononi, Ubongo imeweza ku(kia familia zaidi ya milioni 32 barani Afrika, na kufanya athari kubwa katika sekta ya elimu ya bara hili.
Ta(ti huru zilizochunguza programu za Ubongo zimeonesha mara kwa mara matokeo mazuri kama vile: kuboresha utayari wa mtoto kuanza shule na viwango vya ujifunzaji, na kuchangia mabadiliko chanya ya kijamii na kitabia kwa watoto na walezi wao.
Katika kipindi cha miaka 10 iliyopita, Ubongo imekua kutoka shirika dogo la Tanzania hadi shirika lisilo la kiserikali lenye uwakilishi wa kina barani Afrika na kuwa kinara katika elimu-burudani barani Afrika. Programu za Ubongo zilizojaa ubunifu na zenye kusisimua, zinawawezesha watoto kupata maarifa na stadi muhimu zinazowasaidia kubadili maisha yao na jamii zao kwa ujumla.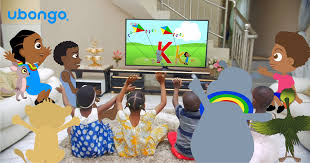 "Tunafurahi kusherehekea hatua hii kubwa ya miaka 10," alisema Mwasi Wilmore, Mkurugenzi Mtendaji wa Ubongo. "Huu ni ushuhuda wa kazi ngumu, uaminifu, na shauku ya timu yetu, washirika wetu, na wafuasi wetu ambao wameamini katika lengo letu na kuchangia mafanikio yetu. Pamoja, tumeweza kufanya mabadiliko makubwa katika elimu barani Afrika, na tuko na azma ya kuendelea na safari yetu ya kuleta mabadiliko katika ujifunzaji wa watoto kwa vizazi vijavyo."