Startimes, the renowned digital television provider on Tuesday delightedly awarded two fortunate participants with fantastic prizes in their "RECHARGE BUY AND WIN" promotion.
The campaign is just one of the many ways the company seeks to express its gratitude to its cherished audience as they celebrate 35 years of excellent.
The event, held at Startimes offices, saw Mr. Mohammed Ismael from Tana River County walking away with a brand-new Motorcycle, while Paul Saitoti from Suswa, Narok County, joyously took home a cutting-edge 55-inch smart television.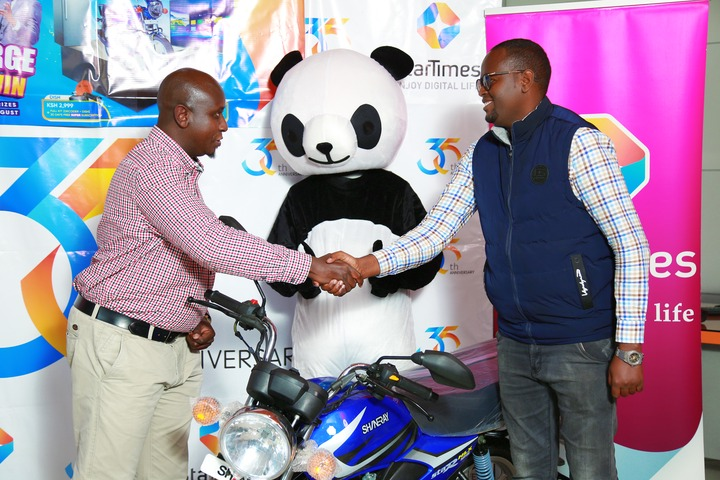 The promotion, which commenced on the 15th of June 2023 and will culminate on the 15th of August 2023, has captured the imagination of participants across the nation.
Startimes' "RECHARGE BUY AND WIN" has garnered immense excitement as customers vie for fabulous prizes, including not only the Motorcycle and smart TV but also a Two-door fridge.
Startimes marketing representative, Steven Ambitho while awarding the gifts expressed his heartfelt congratulations to the winners and took a moment to encourage all Kenyans to continue participating in this captivating competition.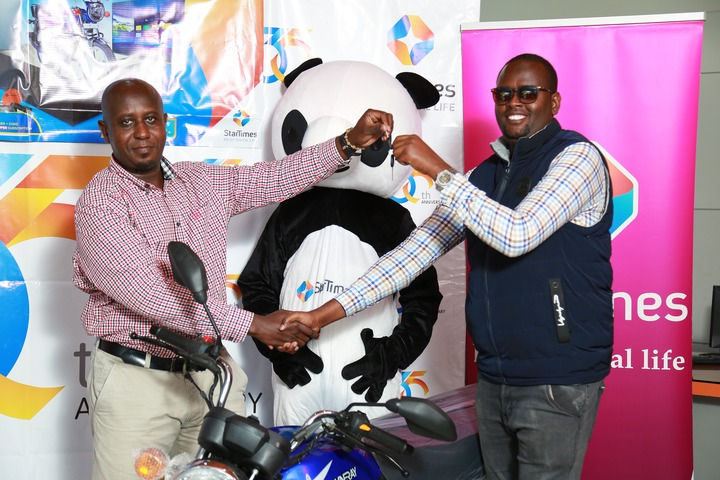 In his statement, Ambitho emphasized that the promotion goes beyond mere entertainment, as it reflects Startimes Media's deep appreciation for the unwavering support they have received over the past 35 years.
"Startimes values its customers' loyalty, and this promotional campaign is our way of giving back to the community that has stood by us through the years, 'he said.
Mr. Mohammed Ismael (winner) beaming with excitement could not hide his joy as he received the keys to his brand-new Motorcycle.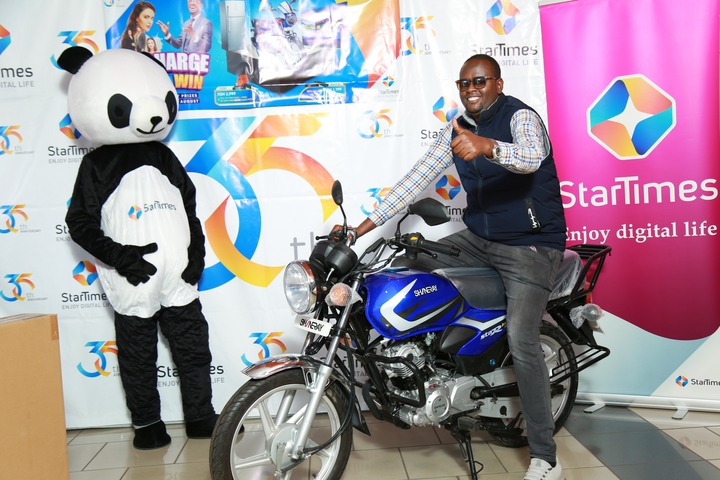 He encouraged all Kenyans to participate actively in the promotion, assuring them that Startimes Media is firmly focused on delivering unparalleled entertainment and rewarding experiences to their loyal viewers.
"These prizes serve as a testament to Startimes' commitment to enriching the lives of its viewers by providing not just top-quality television content but also unforgettable experiences, "he said.