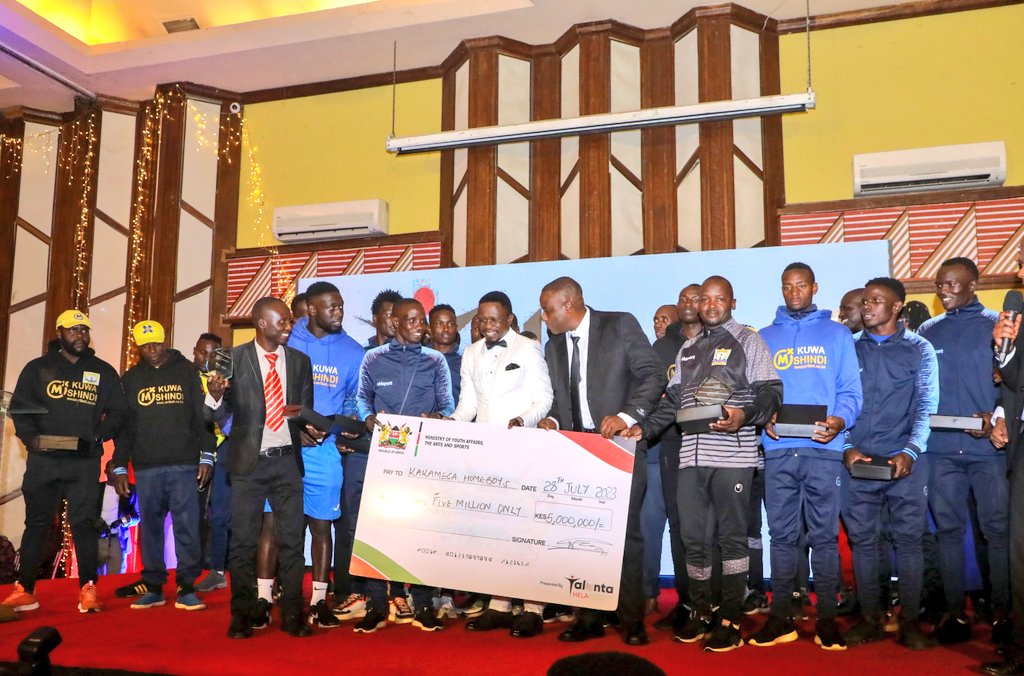 The sports cabinet secretary Ababu Namwamba awarded various Kenyan teams and personalities, both current and legends, during the inaugural Cabinet Secretary's Champions Reception that was held in Nairobi on Friday, 28th July, 2023.
At the momentous occasion, outstanding teams were rewarded for their achievements and contributions to Kenyan sports which won various leagues at the just concluded season whereas giants Gor Mahia and AFC Leopards were bailed out of CAF and FIFA sanctions.
Both clubs have faced challenges with former players and coaches reporting them to search FIFA over unpaid dues.
To address this issue, the CS presented them with Ksh 5 Million each to directly settle their outstanding debts. Gor were kicked out of the CAF Champions League after their club licence was revoked due to their inability to pay money owned to former players Adama Keita, Jules Ulimwengu and Sando Yangayay on time while Leopards are under a transfer ban because of over Ksh20 million owed to ex-coach Patrick Aussems.
Leopards were in May 2022 ordered to pay Aussems a Ksh20 million fine over breach of contract and by the time he left this month, he had not received his dues, leaving the club facing further sanctions. The situations have left the clubs in difficult positions and government has now come to their rescue.The Mozzartbet FKF Cup, winners walked home with a 5 million shillings reward for their triumph as Vihiga Queens and Ulinzi Starlets were rewarded with 5 million shillings each for winning the Women's FKF Premier League and the FKF Cup, respectively.
Shabana FC were awarded 3 million shillings for emerging victorious in the FKF National Super League, while Murang'a Seal received 2 million shillings for their achievement as runners-up in the same league, a feat that saw them promoted to the FKF Premier league for the first time.
The winners of the FKF Division One and Division Two received 300,000 shillings each in recognition of their outstanding performances in their respective leagues while all the 18 teams that took part in the just concluded FKF PL season got a shillings kitty to share out each getting 500,000 shillings to cushion the clubs ahead of the season.
The CS also rewarded past sports legends with each of them getting a 50,000 shillings gratuity while tennis sensation the 2022 Wimbledon doubles junior champion Angela Okutoyi walked away with 1 million shillings.
This is the first time that a Kenyan Sprts Cabinet Secretary is recorgnising and rewarding the performance of Kenya sports men and women. The reception celebrated and rewarded Kenya's leading sporting and creative talents, with the historic event seeing the convergence of over 1,000 sportsmen and women as well as creatives, including Kenya's most decorated living legends. In the end, the ministry spent Sh100 million to reward top performers cut across various sports disciplines from Football, to Athletics, Motorsports to cricket, boxing to tennis and roll ball;it was a night like none other for Kenyan sports.
Having known CS Ababu Namwamba for a long time, I have no doubt that the CS has the potential and will to drive the Kenya sports industry into greatness.
I was actively involved in marshaling support for Nambwamba in Nairobi when he was seeking to win the coveted position of the Orange Democratic Movement Secretary General and upon his elevation to the seat, Namwamba worked tirelessly to grow the party in its popularity drive.
A go getter minister, Nambwamba has taken over the sports ministry like a colossus and the ship is now steady. Namwamba last year inherited a dis-jointed sports industry which was in limbo. Football was deep inside a FIFA ban, athletics had a ban looming over the head due to the run away doping crisis, the swimming federation had a bag of problems with the international federation FINA, now World Aquatics, and nearly all sports disciplines had problems but on his assumption to the helm of the ministry, Namwamba took the bull by the horns.
In just one month, FIFA lifted the suspension on Kenya while World Athletics President Seb Coe visited Kenya and discussed on how to avert a ban due to doping.
That Namwamba awarded football teams is indeed a great gesture after a tumultuous time when all leagues went without a sponsor and even the winners of the FKF premier league went without a winner's prize money.
His firm hold on the steering wheel to sports only serves to indicate better days for the sports industry. His gesture to award the winners of Division One that has two zones and top two performers in Division Two that has three zones is an ice breaker where the lower tier leagues have never had prizes given to them in the past.