Startimes media took center stage on Friday to unveil the names of the highly-anticipated Week 3 & 4 Buy, Recharge, and Win Promotional winners.
The company launched RECHARGE, BUY AND WIN" promotion to mark 35th anniversary
The campaign was launched on June 15, 2023, and set to culminate on August 15, 2023 and subscribers have been eagerly vying for the chance to win remarkable prizes, including a Motorcycle, a Two-door Fridge, and a 55-inch Smart Television.
Already, winners from the week 1 and 2 have been crowned, adding to the allure of this electrifying campaign.
Read also: Startimes Gifts Lucky Winners with Motorcycle and Smart TV
Speaking at the event, Startimes' marketing representative, Steven Ambitho noted that Buy, Recharge, and Win Promotion is a heartfelt gesture to express company's appreciation for their valued customers for their unwavering support for the past 35 years.
He announced Anne Njeri (TV), Duncan Mulongo (fridge), Titus Cheruiyot (motorbike) (week 3 winners) and Faith Koech (TV), Rodgers Opondo (motorbike) and Noah Odari (fridge) for week 4 as the winners of the competition.
Mr. Ambitho said that the response to the promotion has been nothing short of overwhelming, with participants enthusiastically embracing the opportunity to win exciting prizes.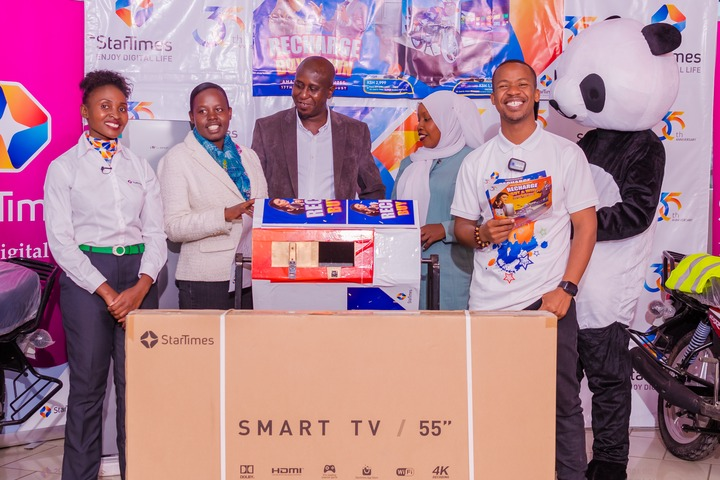 "At Startimes, we believe in continuous improvement and innovation," Ambitho emphasized. "Our unwavering commitment lies in enhancing the viewing experience for our esteemed customers, making sure they have access to a wide range of captivating content."
He said that the Startimes media take great pride in being a platform that showcases and supports local content creators noting that they not only empower talented individuals but also strengthen the bond with their viewers across the country."
He urged urges Kenyans to seize the opportunity and join the festivities by subscribing to their bouquets noting that every subscription brings participants closer to the dream of winning the magnificent prizes on offer.
He added that with the Week 3 & 4 winners now basking in their triumph, the country eagerly awaits the upcoming weeks, where more fortunate souls will emerge victorious.