LG Electronics, in partnership with Habitat for Humanity Kenya (HFHK), has successfully handed over complete infrastructure facilities focused on learning and safety, as well as water, sanitation, and hygiene to support more than 260 individuals residing in Seger Ward, Nanyuki, located in Laikipia County.
The facilities, which include a classroom, toilet blocks, water tanks, and renovated houses were constructed in the last 8 months. They are expected to improve learning and Housing conditions for the Naibor Community in Laikipia County. The beneficiaries comprise 229 Shiloh Naibor Primary School pupils and 35 individuals from 7 families.
Speaking during the Handover Ceremony, LG Electronics EA Corporate Communications Manager Maureen Kemunto said, "Today marks a significant milestone as we hand over these essential infrastructure facilities to the Naibor Community. At LG Electronics, we believe in creating a positive impact in our communities, and this project aligns perfectly with our commitment to social responsibility. We are proud to be part of this transformative initiative that addresses critical needs and uplifts the lives of the residents in this community. Working together with you and our partners, we hope to foster a brighter future for the community through access to quality education and improved living conditions."
Before the construction of the delivered facilities, the school which is situated in a predominantly rural setting, faced significant challenges regarding water supply and hygiene conditions. For instance, they relied on a single 10,000-liter water tank, necessitating students to carry water from their homes to meet their needs at school. In addition, the students and teachers used the then inadequate pit latrines which contributed to substandard hygiene conditions, resulting in overcrowding. Compounded by the unsuitable soil composition, the latrines were sinking, posing a potential hazard to the student community.
LG Electronics and Habitat for Humanity implemented cost-effective innovations to address these challenges to provide a sustainable solution. As part of this effort, they constructed a classroom and two toilet blocks, each equipped with four doors for separate use by boys and girls. This crucial development further sought to enhance school attendance, particularly among girls who previously faced difficulties attending school during their menstrual cycles due to a lack of proper and segregated sanitation facilities.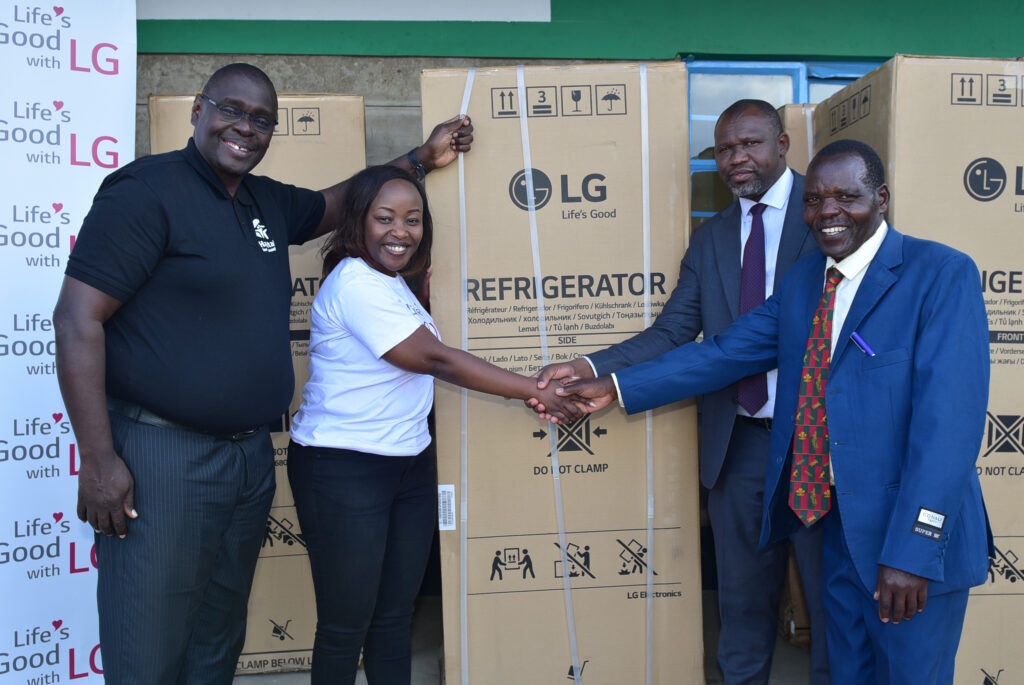 For the housing project, the two also constructed 1 home and renovated 6 more for vulnerable beneficiaries. The renovated homes were each accompanied by water harvesting systems, latrines, and solar-powered home lighting systems. Furthermore, the partnership installed two 10,000-liter tanks for rainwater harvesting, ensuring a reliable water source to benefit the school community. These initiatives demonstrate a commitment to improving educational access, promoting gender equality, and implementing eco-friendly practices.
In his address, Habitat for Humanity Kenya National Director Anthony Okoth said through these newly constructed facilities, the organization aims to empower the entire community for a better tomorrow.
"We are thrilled to witness the successful completion and handover of these essential infrastructure facilities to the Naibor Community. This partnership between LG Electronics and Habitat for Humanity Kenya represents our commitment to improving learning environments and housing conditions for those in need. We are grateful for the collective efforts and support that made this project a reality, and we look forward to seeing the positive impact it will have on the community." Said Okoth
The completion of this project follows a successful rollout of Kes 10.3 million social impact activities by the two organizations rolled out last year that saw over 25,000 residents from the county benefit from product donations, construction of classrooms, and ablution blocks.