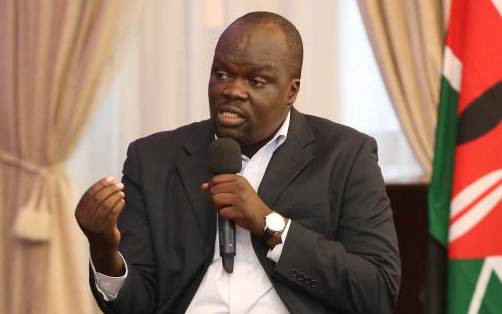 Kileleshwa Member of the County Assembly (MCA) Robert Alai has come to the defense of the Nairobi county government following allegations that nine companies were fraudulently paid to supply non existent materials to the county government.
Alai, in a letter to the DCI claims that the reports are false and that the DCI investigators are on an extortion mission at City Hall.
"Some claims emerged this past week that some nine companies were paid for no supply made. I am an elected MCA and member of Public Accounts Committee. I have also engaged the auditors from the office of the Auditor General as well as City Hall internal auditors to query if the claims had some validity," Alai said.
"None of the claims is true. No payments were made to the said companies, let alone for the supply of air. During the NMS regime, county properties were auctioned as the NMS engaged in payments for goods and services never requisitioned, procured or delivered," the MCA averred.
Alai rubbished the ongoing investigations by the DCI over the alleged fraudulent payments to nine companies claiming that those who were behind the NMS scandals were now out to target the county employees who are now orking to streamline operations at the county government.
"If money will be lost, I will be the first one to throw stones. Governor Johnson Sakaja might not be perfect but I can tell you that he is trying to make the county better," Alai noted.
In his statement, Alai enumerated the the achievements of the Sakaja administration which have been achieved in under one year among them bursaries, improvement of health facilities and the school feeding program.
"Under one year, Sakaja's government has worked and now we get bursaries three times for our ward residents instead of once. There is a new ICU and renal unit at Mama Lucy Hospital, Neo-natal ICU at Mbagathi Hospital, medicine procured from Kenya Medical Supplies Authority – KEMSA and almost Ksh 300 million debts has been paid as well as the school feeding program which was launched with all 17 sub-counties covered," Alai said.
Alai said that some employees who were so powerful yet so corrupt at the Nairobi City County are finding it hard to work under the new leadership with a county assembly which is keen to monitor everything.
"One such employee is selling all these narratives to DCI and hoping that they will use some magic fishing rod to find a fictitious payment which doesn't exist. Hello President William Samoei Ruto, you can't have your officers parking 6 high end cars at the doors of City Hall to intimidate County employees to bribe them. Kindly end this witch-hunt. Call the head of investigations to order and let these employees work in peace. You have OAG, EACC and DCI units able to arrest the fraudsters. Stop these extortion schemes at the county," Alai wrote.
Alai praised Sakaja's leadership, saying, unlike other governors, Sakaja was humane adding that the city governor has made it possible for county employees to get their salary on time.