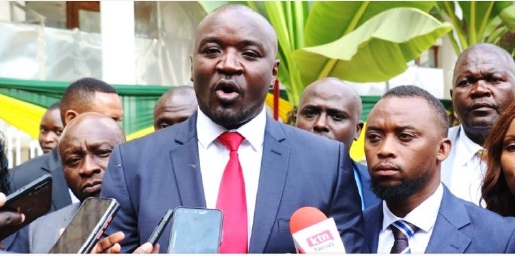 Member of the Nairobi City County Assembly drawn form the United Democratic Alliance party (UDA) have lambasted the Directorate of Criminal Investigations (DCI) officers probing alleged fraud at City Hall demanding professional conduct from the officers in their work.
The UDA MCAs toady stated that the recent developments of alleged Investigations by DCI sleuths has been characterized by harassment on city hall employees which the legislators claim is being fueled by cartels at city hall.
Speaking to the Media, the Minority Chief Whip and Umoja 1 MCA Mark Mugambi said the detectives need to start by summoning the directors of the stated companies before pitching camp at City Hall if indeed they are serious with the supposed investigations.
"The Investigation officers have identified the companies that they claim were paid for supplying hot air. Let them first summon the directors of these companies to get the jist of whatever the allegations are," Mugambi, commonly known as "Roro" said.
"They are harassing the county employees when they can start with those who purportedly received the money. It is from the companies that they will get to know if they made the supplies or not," Mugambi added.
The Whip termed the letter by DCI as 'mere sideshows' noting that there were people who have taken to spreading false information to try and intimidate junior employees of the county which he said must stop.
"Whatever they recently did is just sideshows being fueled by cartels trying to hit back at the administration and we know the busy bodies behind this because we have seen them giving false information about what has been happening in Nairobi County," Mugambi said.
The MCAs noted that the Nairobi County government under Governor Johnson Sakaja has transformed operations at city hall and that things have changed and improved for the good unlike in the previous governments adding that even the County revenue collection was on an upward trajectory.
This comes few hours after Kileleshwa MCA Robert Alai called on the DCI officers to stop the witch hunt and give City Hall employees peace to work.
The Kileleshwa MCA and Public Account Committee member revealed that there a section of senior officers at City Hall that are selling all the narratives to DCI and hoping that they will use some magic fishing rod to find a fictitious payment which doesn't exist.
"Some employees who were so powerful yet so corrupt at the Nairobi City County are finding it hard to work under the new leadership with assembly which is keen to monitor everything. They are selling all these narratives to DCI and hoping that they will use some magic fishing rod to find a fictitious payment," Alai stated.
He said that he personally engaged the auditors from the Office of the Auditor General at City Hall and the claims of hot air payment are not true.