Optiven Foundation, under it's Trustee George Wachiuri on Tuesday demonstrated their commitment to making the world a better place by visiting the elderly in Kirinyaga & Nyeri County.
The philanthropic efforts of the Optiven Foundation have been creating waves, making it a prominent player in the world of charitable organizations ( www.optivenfoundation.org )
Notably, it stands as the sister company to Optiven Limited, a firm that has revolutionized real estate in various Kenyan & Ugandan towns including Kiambu, Malindi, Thika (Gatanga Road), Machakos, Kitengela, Nyeri, Nanyuki, Kisumu, Naivasha, Naro Moru, Malindi, Konza, and Kajiado & Mkono in Uganda
The Tuesday event was marked by not only the distribution of essential food supplies but also the infusion of heartfelt warmth that left a lasting impact on the attendees.
George Wachiuri, the captain of this ship of goodwill, expressed his deep-rooted commitment to uplifting the lives of those who are often overlooked.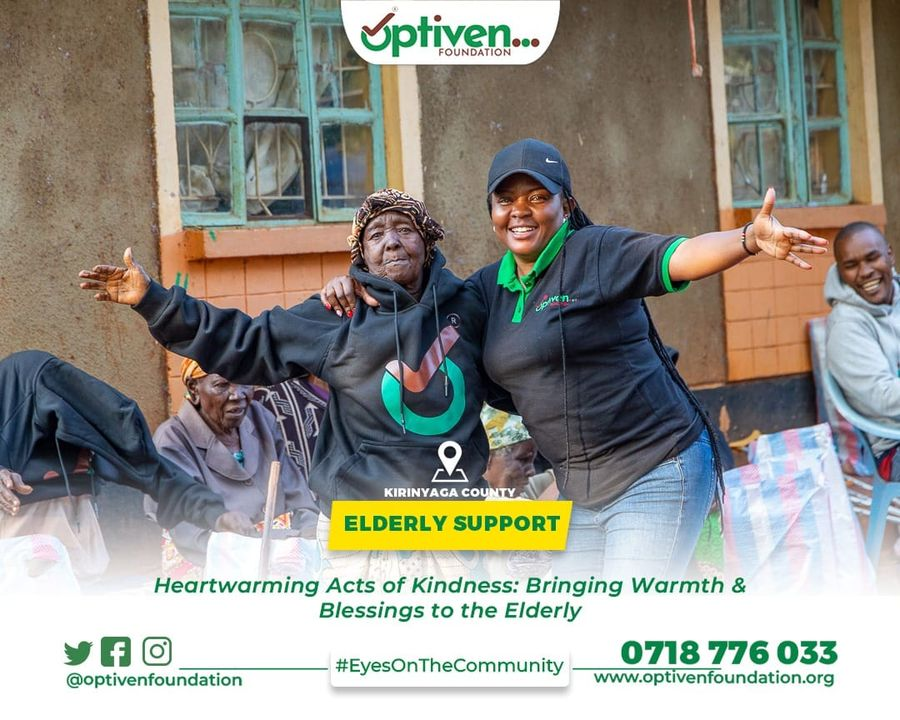 Wachiuri said that the Optiven Foundation's event in Kirinyaga & Nyeri County was a beautiful amalgamation of compassion, love, and action.
"We went above and beyond to bring not just essential food supplies, but also a gesture of warmth. With each bag of provisions, they were gifted hoodies each bearing the powerful affirmation written *"I am blessed." Wachiuri stressed.
He noted that the event stood as a testament to the power of a private organization with a heart as big as its vision.
"We didn't just want to provide necessities; we aimed to bring a sense of comfort and happiness to the people of Kirinyaga. Each hoodie we gifted them carries the powerful affirmation 'I am blessed,' symbolizing the positivity and love we wanted to share."
He said that as the foundation continues to create ripples of change through sustainable socioeconomic programs, they will continue shaping a better world and also nurturing a legacy of love and care that will endure for years to come.
In a humorous yet touching tone, Wachiuri urged everyone to join this transformative journey and support the less fortunate in the society.
"Let's stand by our elders and remind them that they are not only treasured but also far from forgotten," he said, his words resonating with the crowd,"he said.
He noted that the elderly Kirinyaga & Nyeri event was just a glimpse of the larger impact that the Optiven Foundation has been creating over the past 10 years.
He said that the Optiven foundation is commitment to advancing education for needy students, preserving the environment, improving the lives of senior citizens, ensuring food provision in marginalized counties, and promoting health initiatives showcases their multifaceted approach to making a difference.
"We are not just here to make changes behind the scenes; we aim to create visible transformation that positively influences communities, partners, and stakeholders. This is the essence of our foundation's mission," Wachiuri said.
To partner:
Call – +254 718 776033
Or
Visit – info@optivenfoundation.org