Startimes media has awarded Lucky Winners of Week 5 and 6 on the ongoing campaign dubbed Buy, Recharge and Win promotion.
This engaging campaign, which commenced on June 15, 2023, and is set to culminate on August 15, 2023, has showcased Startimes' unwavering dedication to its loyal customer base.
Startimes' PR and Communication Director, Mike Mugo noted that the campaign is designed as a celebration of Startimes' thriving business journey.
He stressed that the Buy, Recharge and Win promotion was more than just a token of entertainment noting that it was a testament to Startimes Media's profound gratitude for the unwavering support they have garnered over the past 35 years.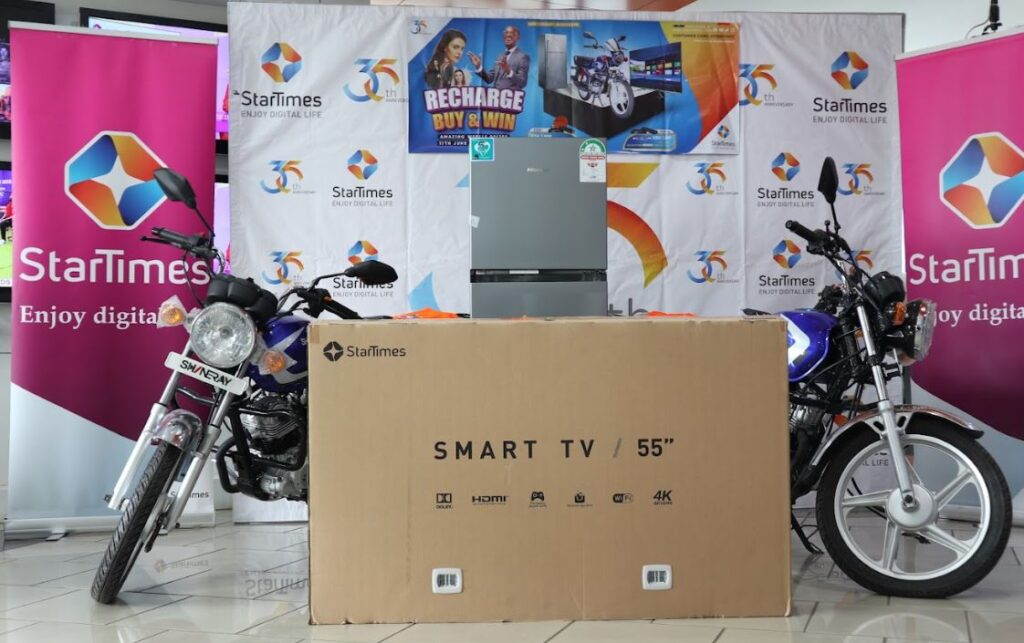 Mr Mugo underlined that the campaign aligned with the company's corporate social responsibility, aimed at appreciating their valued customers who have stood by them through thick and thin.
"Startimes values its customers' loyalty, and this promotional campaign is our way of giving back to the community that has stood by us through the years," said Mugo, reaffirming the company's commitment to fostering a strong bond with their audience.
In a glittering event held at the Startimes offices, the deserving winners of Week 5 and 6 were honored.
Week 5 showcased three exceptional individuals among them Antony Moeche, a resident of Kisumu, emerged victorious and claimed a stunning 55-inch TV.
Aron Munge Muigai, hailing from Naivasha, was rewarded with a sleek 2-door Hisense fridge and Kemunto Nyanchieo from Uasin Ngishu was awarded motorbike.
Week 6 saw Mlongo Mwamzuka from the coastal city of Mombasa secure a 55-inch TV while John Lugwe from Kwale, took home a covetable 2-door Hisense fridge and Francis Okoth won motorbike.