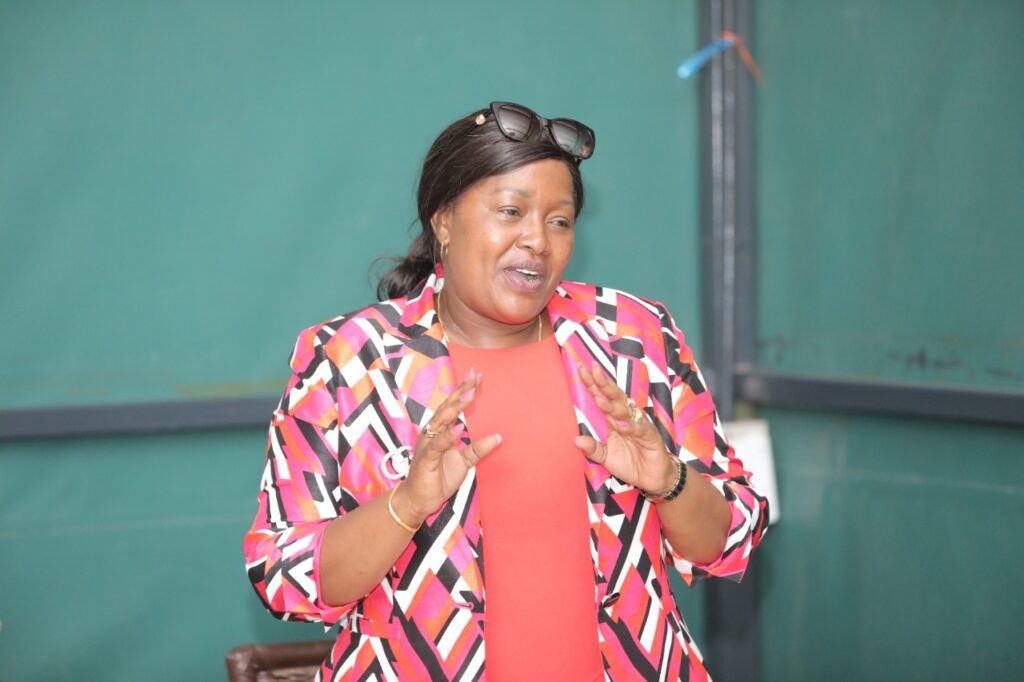 Former Nairobi County Attorney Lydia Kwamboka has been unmasked as part of a cartel that has has been hell bent on sabotaging efforts of the Nairobi Governor Johnson Sakaja to fight graft in what has morphed into a form of county capture.
Kwamboka is accused of being part of a cartel that has looted billions of shillings from the public coffers and continue to stand in the way of justice following her dismissal from the county attorney position.
Kwamboka has been unmasked as one of the major faces behind the faceless cartels trying to sabotage the efforts to make Nairobi work and after her exit, she has been sighted in various Government offices in the company of former disgraced county employees claiming to have the courts and key government agencies in her pockets and consequently aiding her vengeful mission to destabilize the Sakaja's administration as corruption fights back.
The former county attorney is allegedly behind the inflated 21 billion shillings pending legal service bills that plagued the Nairobi County government causing a major impediment to service delivery.
Kwamboka, who was recently removed from office as County Attorney by Governor Sakaja has put up a bitter fight allegedly scheming to regain her position by spreading false claims of corruption and incompetence against the current administration. Before facing the sack, Kwamboka appeared before the County Assembly's Justice and Legal Committee and expressed her frustrations with the Finance Department over the payment of pending bills to law firms.
According to sources at City Hall, Kwamboka has in recent days been seen visiting various offices and accusing them of engaging in corrupt practices. In the legal payments from the county government, Kwamboka is accused of practicing nepotism and blatant conflict of interest as she reportedly pre-qualified her legal firm Maina Njenga & Kwamboka Advocates to render legal services and even ensured that she only prioritized these firms for the best briefs. Notably, Maina Njenja & Kwamboka Advocates received over Kshs. 300 million in legal fees payments over successive regimes. Kwamboka's law firm has been reported among the companies that she was pushing to have them paid allegedly for no services rendered to the county government.
Governor Sakaja has rolled up his sleeves in his fight against corruption in the county government but Kwamboka has been a major impediment to his efforts as she connived to siphon money from public coffers through the payment of the fake legal pending bills where, alongside her other accomplices, she has set up companies and pre-qualified them making them eligible to receive money from the county for no services at all.
By the end of the year 2019, the pending legal bills stood at less than two billion shillings. However, when Kwamboka made a comeback in October 2019, after her suspension by former Governor Mike Sonko to August 2022 when the Governor Sakaja was elected, the legal pending bills had surprisingly ballooned by 18.5 Billion to total of Kshs. 21 Billion.
Worried by the inflated legal bills, the newly elected governor appointed a 12 member task force to investigate, scrutinize and verify the pending bills. In its interim report, the task force noted that most of the bills had been inflated and consequently confirmed that only less than seven billion shillings was the legitimate legal bills contrary to the inflated figure of 21 billion that was claimed by Kwamboka.
Investigations have revealed that Kwamboka was a dysfunctional County Attorney who occasioned delays in discharging her mandate. The former County attorney has also overseen and entrenched outright tribalism in terms of allocating legal briefs to lawyers from her community and those she is affiliated to.
She had also extended the nepotism to the aspect of employees in her office in direct contravention of Article 10 of the constitution and the leadership And Integrity Act. She has ensured that almost all the senior employees in the legal department hail from her village and tribe and ensure they control key strategic positions. These include, Violet Oyangi, Ezekiel Masese, Evans Mogire, David Oseko, Gilbert Mobagi, Paul Nyamwaya, John Ombongi, Margaret Mutsili and Momanyi.
Kwamboka, whose contract of employment lapsed in December 2022 has been holding the position during the transitional period pending the appointment of a new substantive County Attorney but has now turned to dramatize her exit in a bid to orchestrate her return to the county. She is said to have close ties with the Judiciary registrar Anne Amadi and Solicitor General Shadrack Mose. The solicitor general, who also hails from the same community with Kwamboka has been protecting Kwamboka while Amadi recently was embroiled in controversial sale of gold in the gulf region.
According to sources within the County Government, Kwamboka has been visiting various offices and accusing them of engaging in corrupt practices as she seeks to make her way back to office. She is also accused of bribing officials to join her struggle to be reinstated as she intends to ensure that she is back to office as the center pin of the corruption cartel plaguing the county government.
"Kwamboka has now turned to frustrating the county government because Governor Sakaja now is fighting corruption and she is a key member of the cartel of corrupt deals. She now walks from office to office claiming some form of corruption. You wonder if corruption only starts to exist in an organisation after you have been removed?" the source questioned.
The source further alleged that Kwamboka was involved in several dubious deals that inflated the legal bills of the County Government and benefited her cronies.
"Lydia Kwamboka made the legal sector a serious cog. Imagine a situation where a government to government transaction which costs Ksh 35,000 in legal bill is charged Ksh 600 million by a lawyer. Kwamboka has been a serious problem at the legal sector. Most of the pending bills are fictitious," the source revealed.
The revelations by the source raise serious questions about the integrity and professionalism of Kwamboka, who was entrusted with the responsibility of providing legal services to the County Government. It also exposes the extent of corruption and mismanagement that has plagued the County Government for years. The source called for a thorough investigation into the allegations and urged Governor Sakaja to ensure that justice is served and accountability is restored.
Seeking to be reinstated, according to Legal experts, has no legal ground as any purported extension by former Governor Ann Kananu was not in compliance with the Office of the County Attorney Act, 2020 in that an appointment of the County Attorney must be with the approval of the County Assembly. Her name was never sent to the County Assembly for approval.
In the last one week, she has attempted without success to use Courts to make a comeback to the county purporting that her exit was illegal and un-procedural. A perusal of Court documents she had filed in Court shows that the Employment and Labour Relations Court declined to grant her reinstatement orders and on sensing defeat, she hastily withdrew the matter and our sources informs us that she in the process of forum shopping for a new favorable Judge upon which she intends to refile the same case and thus abuse the judicial process.
Our investigations have revealed that theft has been on overdrive as Kwamboka is accused of being notorious in extortion and collection of bribes as a precondition to her signing letters of awards and contracts and as such any person who does not comply with her demands will not have their contracts signed. The County legal attorney is part of the payment processes of the county. This action has ended up with hundreds of files stalling at her desk and thus derailing main development projects and agenda for the County.
Her bitterness and motivation to appear before the legal affairs committee of the County Assembly was due to the refusal by the administration to pay a list of law firms she had pre-selected and cherry picked for payment of over Kshs. 1.4 billion shillings yet the administration ended up paying other priority areas like school feeding programme and bursaries for needy students.
Kwamboka was in 2022 impeached by the County Assembly on numerous serious grounds including nepotism, incompetence, her failure to produce a legal practicing certificate and outright fraudulent conflict of interest.