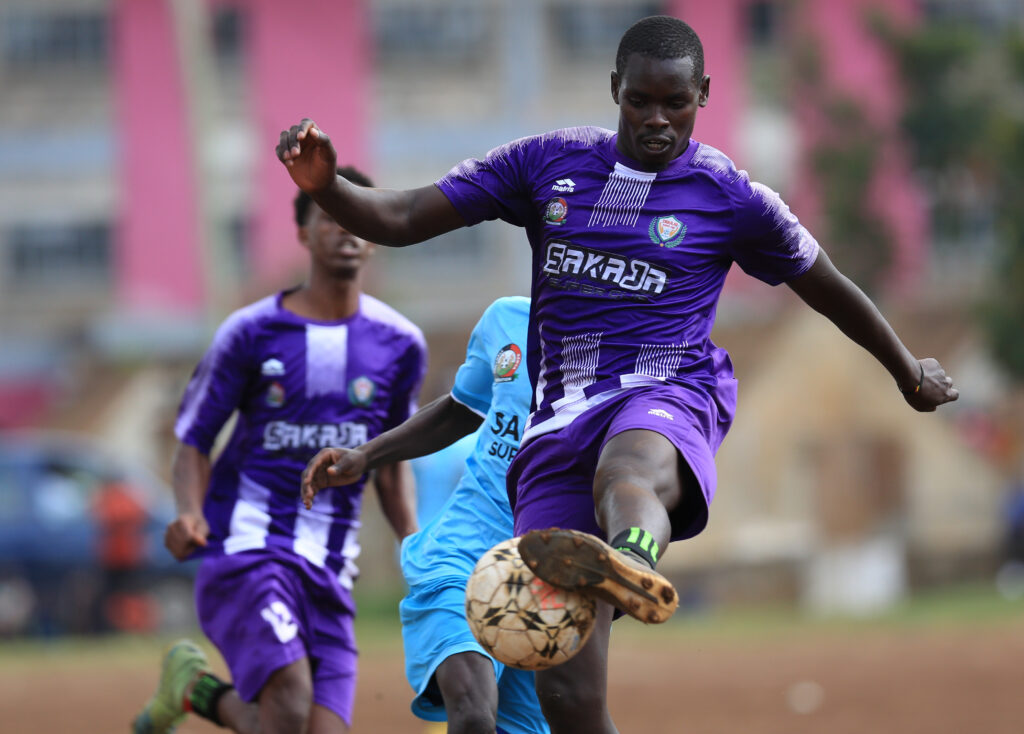 Sakaja Super Cup Football Tournament Sub County pools got toe their penultimate stage today with round four matches taking places at various grounds across the county.
After 16 teams from Makadara and Embakasi West qualified from the pool games after three matches, every team this weekend put their foot forward for a chance to advance to the quarter finals in this esteemed inaugural tournament.
Sakaja Super Cup participating teams from across all 17 Sub Counties of Nairobi will be out looking for a chance to move to the next level in the tournament with some pools winding up this weekend as those anticipating for match day 6 expected to wait for their last round of matches before finalizing the group stage matches.
Mathare City from Ruaraka Sub county edged out Homeboys 2-0 at Drive Inn primary school grounds before Ajax Rock city went down 0-2 to Babadogo United.
In Dagoretti South Sub county, Riruta 105 FC defeated Dagoretti Santos FC by a solitary goal with Frederick Onyango's 30th minute strike making the difference. Across the ridge in Dagoretti North Sub county Kile Soccer played out to a barren draw with Maranatha . Saints FC outwitted the Blues downing them 2-1 with Tom Stephen and Nyabal Gabriel inking their names on the score sheet and Derrick Mulima puling one back for the Blues.
The Embakasi South Sub County preliminary results at Reuben stadium, FC Barca defeated Cyprus by a goal to nil courtesy of Joel Murithi's 4th minute goal as Dream team over powered Green Santos in a 2-1 score line.
Samwest B FC went ahead in the 17th minute rom a strike Gichui Shadrack before Christopher Otieno leveled for B13 FC in the 52nd minute. Kariuki Collins made the difference in the 68th minute with a fine finish to ensure Samwest claimed maximum points
In Westlands Sub county, Gachie Friends beat Atlantic 4-1 at the Kihumbuini Ground before Young City saw red at the hands of Red City with an emphatic 3-0 defeat. James Ngugi scored for Atlantic as Elly Kogo and Cheruoyot Robert hit a brace each for Gachie friends. Gonda Mohamed, Enock Wanyonyi and Makori Frank scored one each for Red City.
In Dagoretti South sub county matches played at Ruthimitu Primary school, Kitchen college beat Nairobi chapel 1-0 with a goal from Brighton Gitonga in the 54th minute
Bokastars lost 1-3 to Corinthians with goals from . Analo Stephen 11th minute, John Andere, 25th minute and Fredrick Achola, 88th minute carrying the day as Bokastars got a consolation courtesy of Septa Savic in the 61st minute.
The pool games finalize next Wednesday with round six of matches bringing group stages to a close.
The Sakaja Super Cup kicked off with action bringing light to Nairobi grounds as teams battle it out for their chance to advance in group stages.
Winners of the tournament sponsored by the Sakaja Foundation in partnership with the Nairobi City County government and Football Kenya Federation will win a Ksh 3 Million top prize as the runners up pocket 2 Million shillings. Third place finishers will win Ksh One million. Other weekend results will follow as teams sledge it out for the ultimate prize.