To many Albert Muchanga is a man who has been blessed with phenomenal leadership skills,many top African leaders dubbing him as 'the voice of the voiceless.'
Ambassador Muchanga previously worked in the Zambian Civil Service at home and abroad, including as Permanent Secretary, Ambassador of Zambia to Brazil, Ambassador of Zambia to Ethiopia and Permanent Representative to the African Union and United Nations Economic Commission for Africa and as Deputy Executive Secretary of the Southern African Development Community (SADC).
As part of his diplomatic service, he had extra accreditation to the African Union Commission and dealt with issues broadly related to international economic policy analysis and implementation as well as regional integration, foreign policy analysis and implementation. He has also been a guest of honour and speaker at numerous Pan-African and International conferences on matters related to African economic integration, multilateral trade negotiations, globalization, youth and women empowerment, sustainable development, management and leadership; among others.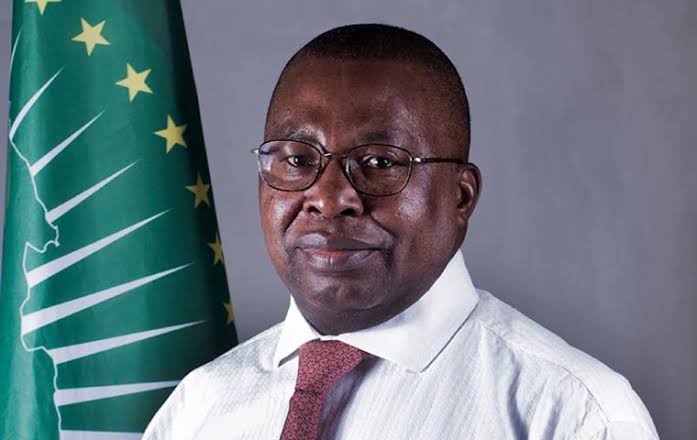 This successful stint led him to be appointed as a commissioner of trade at the African Union.He was first elected as African Union Commissioner for Trade and Industry in January 2017 for a four-year term. He took up his post on 15th March 2017. In addition to these broad areas,his portfolio also covers: investment, innovation, entrepreneurship, economic integration, economic policies and research, statistics and oil and gas.
In this position, he has provided strategic leadership in facilitating negotiation, conclusion and ratification of the Agreement Establishing the African Continental Free Trade Area (AfCFTA), which entered into force on 30th May 2019 and whose start of trading was launched on 1st January, 2021. In addition, Ambassador Muchanga has mobilized the African private sector to play a greater role in the AfCFTA, culminating in the establishment of the African Business Council, Pan-African Manufacturers Association and Association of Chambers of Mines and other Mining Associations in Africa.
During his speech at the Turkey- Africa Trade Forum he stated,"With a young population, growing middle class and large market space of the African Continental Free trade Area, Africa is repositioning herself as an attractive market for trade and investments to both investors and traders in Africa and the rest of the world."
He added,"The private sector is a major source of growth and development. At the same time, the public sector has the key responsibility of creating the enabling environment for business to thrive. With an enabling environment, the private sector will be prepared to face the challenges of today's stiff global competition by strengthening capacities, embracing innovation, and working hand in hand with governments to invest in areas that are critical to the socio-economic progress of the people of Africa."
Albert Mudenda Muchanga has a passion for adding value to all the sectors he has been appointed to since he began working in the public sector.He believes that continuously developing people and institutions is crucial to creating value on a sustainable basis.
Mr Muchanga over the years has continued touching lives through his immense contribution to the implementation of the AfCFTA making trade easy at border points and between countries.He has also inspired many through his leadership making him a true African success story.